Born: May 13, 1937
Died: June 14, 1995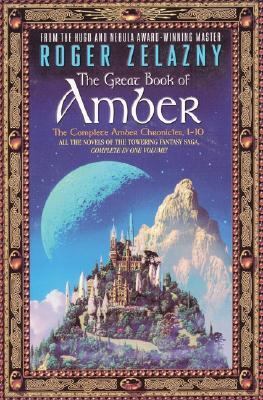 Ohio connection: Birth
Euclid
Roger Joseph Zelazny was born in Euclid, Ohio. He was educated at Western Reserve University (B.A., 1959) and subsequently received a master's degree at Columbia University (1962). Zelazny worked as a claims representative and specialist for the Social Security Administration from 1962 until 1969 and wrote numerous short stories during this time as well as his first three novels, This Immortal (1966), The Dream Master (1966), and Lord of Light (1967).
When he left to become a full-time writer, Zelazny focused his attention on novels. Zelazny became a very popular science fiction writer whose early works featured characters from various mythologies including Egyptian, Hindu, Norse, and others. Some of his titles include Isle of the Dead, Doorways in the Sand, Damnation Alley, Eye of Cat, and A Dark Traveling. His most ambitious work, the later "Chronicles of Amber" series, depicted a world which exists in all places and all times at once. It includes ten books and a number of short stories published over a period of twenty-one years (1970-1991). To get an idea of the breadth of the series, one character in Nine Princes in Amber described it this way:
"Amber was the greatest city which had ever existed or ever would exist. Amber had always been and always would be, and every other city, everywhere every other city that existed was but a reflection of a shadow of some phase of Amber."
Zelazny married Sharon Steberl in 1964 but divorced in 1966. He married Judith Alene Callahan in 1966. They had three children: Devin, Trent and Shannon.
Roger Zelazny died on June 14, 1995, in Santa Fe, New Mexico.
Awards: Nebula Award, Science Fiction Writers of America, 1965, for best novella, "He Who Shapes," 1965, for best novelette, "The Doors of His Face, the Lamps of His Mouth," and 1975, for best novella, "Home Is the Hangman"; Hugo Award, World Science Fiction Convention, 1966, for best novel,This Immortal, 1968, for best novel, Lord of Light, 1975, for best novella, "Home Is the Hangman," 1983, for best novelette, "Unicorn Variations," 1986, for best novella, "Twenty-Four Views of Mount Fuji by Hokusai," and 1987, for best novelette, "Permafrost"; Prix Apollo, 1972, for French edition of Isle of the Dead; Guest of Honor, World Science Fiction Convention, 1974, Australian National Science Fiction Convention, 1978, and at numerous regional and local science fiction conventions; Doorways in the Sand named one of the best young adult books of the year, 1976, American Library Association; Balrog Award, 1980, for best story, "The Last Defender of Camelot," and 1984, for best collection, "Unicorn Variations;" Locus Award, 1984, for collection "Unicorn Variations," and 1986, for novel Trumps of Doom; nominated for Nebula Award, 1994, for A Night in the Lonesome October.
Additional Resources