Born: October 25, 1972
Died: February 15, 2019
Ohio Connection: Resident
Columbus
Born Elizabeth Atwood on October 25, 1972, Ellis Avery was raised in Columbus, Ohio. She attended the Columbus School for Girls until the age of eleven, when her family moved to Princeton, New Jersey. She legally changed her name to Ellis Avery when she was 18. Interested in the overlap between theater, anthropology, and religion, Avery pursued an independent major in Performance Studies at Bryn Mawr College in Pennsylvania, graduating in 1993. She spent the next few years in San Francisco working for queer youth organizations and earning an MFA in Writing from Goddard College's low residency program. She settled in New York in 1997, where in 1999 she met her partner of twenty years, Sharon Marcus.
Avery taught creative writing at Columbia University in New York, NY, and previously served as a lecturer in the Department of English at the University of California, Berkeley. Her first book, The Smoke Week (2003), is Avery's personal account of the attacks on 9/11 and their aftermath. Avery published two novels, a memoir and a book of poetry. Avery won the American Library Association Stonewall Book Award for The Teahouse Fire (2006) and The Last Nude (2012). Her other books include Broken Rooms (2014), and The Family Tooth (2015). Her work has been translated into six languages. She contributed to Publishers Weekly, Kyoto Journal, and The Village Voice. Avery's last work, Tree of Cats, with illustrations by Alison Bechdel, was published in 2020.
Ellis Avery died on February 15, 2019, of cancer; she was 46 years old.
Books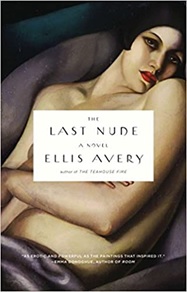 Awards
Citation from Writer's Notes Book Awards for The Smoke Week. The Teahouse Firewas named a Kiriyama Prize Notable Book in 2006 and a Booksense pick for January 2007. Avery received Ohioana's 2002 Walter Rumsey Marvin grant; 2007 Ohioana Book Award for Fiction for The Teahouse Fire; American Library Association's 2008 Stonewall Fiction Award for The Teahouse Fire; 2013 Stonewall Fiction Award for The Last Nude. Avery's novelshave also received Lambda and Golden Crown awards.
Additional Resources
Wikipedia: Ellis Avery
LAMBDA Literary: "A Conversation with Ellis Avery"