Born: November 18, 1911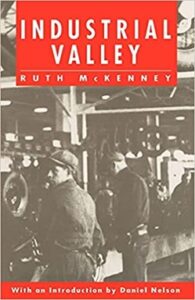 Died: July 27, 1972
Ohio connection: Resident
Akron
Ruth McKenney, an award-winning journalist for the Akron Beacon Journal, was born on November 18, 1911, in Michawaka, Indiana, and was raised in East Cleveland, Ohio. While attending Shaw High School, McKenney worked as a printer's apprentice at the O. E. Thomas Print Shop and joined the International Typographical Union, which was widely recognized as one of the most progressive and ethical unions in the country. McKenney continued her education at Ohio State University, majoring in journalism and working for the Columbus Citizen and the International News Service, and accepted a writing position with the Beacon Journal before she earned her degree. While working for the paper, McKenney was twice named the "best in Ohio" by the Ohio Newspaper Women's Association. Referred to as "one of the great comic writers of the 20th century" by The New York Times journalist Laura Lippman, it is said that McKenney fell into writing humorous sketches because she needed money while working on her passion project, a fictionalized history of the United Rubber Workers of America. McKenney left Akron in 1934 to join the staff of the Newark Ledger in New Jersey where she worked briefly before heading to New York City. On August 12, 1937, McKenney married writer Richard Bransten who wrote under the pen name Bruce Minton for The New Masses. The couple was married until his death in 1955. 
In New York, McKenney finished writing what she thought would become her major opus, Industrial Valley (1939), a novel of class and conflict in Akron, Ohio, during the United Rubber Workers strike (1936). It is McKenney's most controversial, and self-professed "best," work. Despite the notoriety of Industrial Valley, McKenney is most famous for her best-selling book My Sister Eileen (1938) which began as a series stories published in the New Yorker magazine. The book, later made into a Broadway play, a musical (Wonderful Town), and a feature film, was about McKenney's relationship with her popular, beautiful sister and the real-life adventures they had together. Continuing the familial theme in her work, McKenney wrote The Loud Red Patrick (1947) in homage to her grandfather. The book, about a widower raising four daughters in Cleveland in 1912, also became a Broadway play. Other writings by McKenney include Jake Home (1943), Love Story (1950), Here's England; a Highly Informal Guide (with Richard Bransten) (1951), All About Eileen (1952), Far, Far From Home (1954), and Mirage (1956). McKenney was also feature writer for the New York Post, a contributor to Harper's and writer and editor for New Masses, a Communist weekly.
Ruth McKenney Bransten died in New York City on July 27, 1972. She was 60 years old.
Books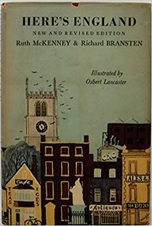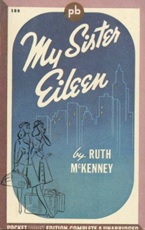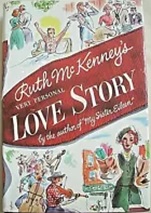 Awards
Received several awards from Ohio Newspaper Women's Association; Best Fiction Book award at Writer's Congress, 1938 and 1939, for Industrial Valley.
Additional Resources
Wikipedia: Ruth McKenney