Born: June 21, 1850

Died: June 11, 1941
Ohio connection: Birth
Cincinnati
Daniel Carter Beard, author, illustrator, and a founder of the Boy Scouts of America, was born in Cincinnati, Ohio, in 1850. Beard, the son of celebrated portrait artist James Henry Beard and Mary Caroline (Carter) Beard, developed an intense love of nature in his youth. He explored the woods near his home and made sketches.
Beard attended public schools in Cincinnati; however, he enrolled in a private school when his family moved to Covington, Kentucky. While living there, he continued his explorations in nature, especially regions near the Ohio River and Banklick Creek and formed a club with his friends called the "Boone Scouts." This love of nature and outdoor living would greatly influence his life and writings.
Beard studied civil engineering in Worrall's Academy in Covington and, following his graduation in 1869, began working as an engineer and surveyor with the office of the city engineer in Cincinnati. In 1878, Beard relocated to New York City where he found work with the Sanborn Map and Publishing Company. In 1894, Beard married Barbara Alice Jackson and they had two children.
In 1882, Beard saw the publication of his first book, What to Do and How to Do It: The American Boy's Handy Book, which he also illustrated, would become a classic. Beard's illustrations drew notice from a number of authors including Mark Twain for whom he did the illustrations for Twain's A Connecticut Yankee in King Arthur's Court (1889). During this time, Beard established The Sons of Daniel Boone, an outdoor recreation program for boys. In 1909, while on the staff of the Pictorial Review, Beard founded The Boy Pioneers of America which was one of several youth organizations that banded together to form the Boy Scouts of America in 1910. Beard was elected as one of three national Scout commissioners and was known to those within Boy Scouts of America circles, including millions of Boy Scouts, as "Uncle Dan."
Beard wrote a monthly column in the scouting periodical Boys' Life. His books include Moonlight and Six Feet of Romance (1892), Outdoor Games for All Seasons (1896), Outdoor Handy Book (1900), Jack of All Trades (1904), Field and Forest Handy Book (1906, 1920), Boat Building and Boating (1911), Shelters, Shacks and Shanties (1914), Bugs, Butterflies and Beetles (1915), Camp Hints for Hike and Bike (1916), The American Boys' Book of Signs, Signals and Symbols (1918), American Boys' Book of Camp-Lore and Woodcraft (1920), American Boys' Book of Wild Animals (1921), The Black Wolf Pack (1922), American Boys' Book of Birds and Brownies of the Woods (1923), Do it Yourself (1925), Wisdom of the Woods (1926), Buckskin Book for Buckskin Men and Boys (1929), Hardly a Man is Now Alive (his autobiography, 1939) and Dan Beard Talks to Scouts (1940). Several of Beard's books are still in print; his love of outdoor living and the environment steered his life and career on a path that influenced the development of citizenship, physical fitness, character, and environmental awareness for millions of Americans.
Dan Beard died on June 11, 1941, at the age of 90, in Suffern, New York.
Books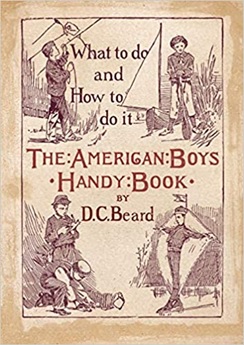 Additional Resources
Daniel Carter Beard via Wikipedia. Learn more about Dan Beard's life; view images of his illustrations and learn of the honors he garnered in his career and the legacy he left.