Born: June 23, 1900
Died: October 25, 1993
Ohio connection: Birth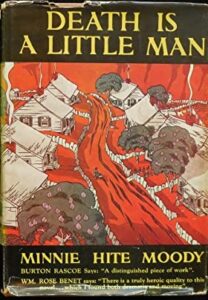 Granville
Minnie Hite Moody's work encompasses that of author, editor, newspaper columnist, and radio broadcaster. Moody published five novels and wrote numerous poems, short stories, and articles that appeared in major periodicals. She loved sharing her view of Licking County heritage in her writing. Her work was published in many periodicals including The Newark Advocate, The New York Times, The Washington Post, The Columbus Dispatch, The Granville Sentinel, McCall's, Good Housekeeping, The Saturday Evening Post, Vogue, Georgia Review, and Ladies' Home Journal. During the last seventeen years of her life, Minnie Hite (as she preferred to be called) enjoyed writing and conversing with friends and admirers about local, regional, and national history.
Born in Granville, Ohio, to Mabel Simpson (Evans) Hite and Raleigh Upton Hite. Minnie Hite began writing at an early age, played trombone in her high school band, and graduated from Granville High School. On November 9, 1918, she married Wilkie Osgood Moody. The couple were married 57 years and had two daughters. Because of Wilkie "Coach" Moody's career as a coach and athletic director, they lived in several cities in the Midwest and South including Warren, Ohio; Columbus, Indiana; and Atlanta, Georgia. They lived in Atlanta for more than 30 years before returning to Granville in 1962. They moved into Tannery Hill, the home where Minnie Hite was born.
Minnie Hite's career as a newspaper columnist began at The Atlanta Journal (1938-43), she would go on to write a daily column for The Granville Sentinel and a daily column called "I Remember, I Remember" for The Newark Advocate. Her first novel, Once Again in Chicago (1933), featured a weekend tryst between two lovers who reunite at the Chicago World's Fair after the passage of forty years. Her second novel, Death Is a Little Man (1936), chronicled the plight of African-Americans trapped in "the Bottom" of a Georgia city. Her third novel, Towers with Ivy (1937), chronicled 100 years of a prominent family. Minnie Hite referred to it as, "my Granville-Denison University novel." Her fourth novel, Old Home Week (1938) is said to rival Pierre Choderlos de Laclos' work for the "dangerous liaisons" in which the residents of Prairieville, Illinois, engaged. The Long Meadows (1941), Minnie Hite's final novel, is an epic work spanning two hundred years and four wars.
Widowed in 1976, Minnie Hite never retired from writing. She was indefatigable and continued to write her weekly column for The Granville Sentinel even after her 93rd birthday. 
After becoming bedridden in 1993, Minnie Hite was cared for at Tannery Hill by her daughter Elizabeth until her death on October 25, 1993.
Additional Resources
Minnie Hite Moody Papers, 1914-1970 (Finding Aid) at Emory University