Born: February 21, 1927
Died: April 22, 1996
Ohio connection: Birth
Bellbrook (Dayton)
Erma Louise Bombeck (nee Fiste), a columnist and best-selling author once named by the World Almanac as one of the most influential people in America, was born in Bellbrook, Ohio, on February 21, 1927, and grew up in one of the working-class neighborhoods on Hedges Street in Dayton. Her father, a crane operator who died when Bombeck was nine, and her mother, a factory worker, encouraged her love of reading and, realizing she was ready, enrolled her in school at age five, a year earlier than usual at the time. By age ten, the "future poet laureate of the suburbs" knew she wanted to write and so become active with her middle and high school newspapers. While in high school, Bombeck also worked as a copygirl for the Dayton Journal Herald. During this time, she met Bill Bombeck, who was working as a copyboy for the morning edition of the paper. The self-described quiet book worm was also voraciously reading humor authors including Ohio native James Thurber. After graduating from high school in 1944 and working full-time for a year with the Journal Herald, Bombeck enrolled at the University of Dayton. She graduated with a B. A. in English in 1949 and that same year married Bill Bombeck who was also a student at the university. Bombeck worked at the Journal Herald before deciding to become a full-time mother and homemaker in 1953.
For the next twelve years, Bombeck's experiences at home led to humorous insights and observations of which she was certain other homemakers could relate. In 1964, she offered to write a column for the Kettering-Oakwood Times, the local newspaper. Her salary was $3.00 a week, but the job launched a career that would span three decades. Her column, called "Zone 59," was quickly noticed by Glenn Thompson, her former editor at the Journal Herald, who signed her on in 1965 for $50.00 a week and a byline. Noting the column's popularity, Thompson submitted Bombeck's columns to Newsday Newspaper Syndicate for national syndication. Within five years, Bombeck's column, "At Wit's End," was  appearing in 500 newspapers across the country. The column's success opened many new doors for Bombeck. The "average housewife" gave speeches; wrote several best-selling books; and wrote columns for Family Circle, Redbook, and McCall's magazines. She was a contributing editor for Good Housekeeping magazine and regularly appeared on Good Morning America from 1975-1986 giving three-minute commentary and conducting celebrity interviews.
The wise-cracking, funny voice of the stay-at-home wife and mother, who also had feminists and men as some of her biggest fans, wrote the following best-selling books: The Grass is Always Greener over the Septic Tank, made into a TV-movie starring Carol Burnett, (1976); If Life is a Bowl of Cherries, What Am I Doing in the Pitts? (1978); Aunt Erma's Cope Book: How to Get from Monday to Friday…In 12 Days (1979); Motherhood: the Second Oldest Profession (1983) and others. At the height of her popularity, Bombeck's column was carried in 900 newspapers to an audience of 30 million.
Erma Louise Bombeck died on Monday, April 22, 1996, after battling cancer and a hereditary kidney disease.
Awards
National Headliner Prize from Theta Sigma Phi, 1969; Mark Twain Award for Humor, 1973; Grand Marshal at Tournament of Roses Parade, 1986; American Cancer Society Medal of Honor, 1990; fifteen honorary doctorates.
Books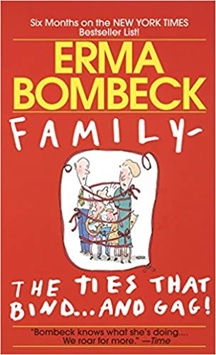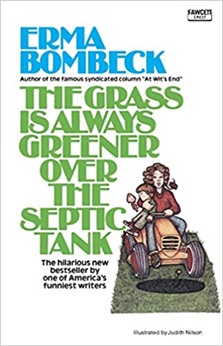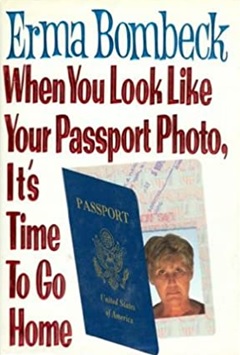 Additional Resources
Wikipedia: Erma Bombeck
Erma Bombeck on Good Morning America: Mother's Day Card