Born: November 18, 1912

Died: October 15, 1978
Ohio connection: Birth
Elyria
It was perhaps fate that an Elyria native, born in the same year as the tragic sinking of the Titanic, should devote his life to authoring books about life and death onboard ships.
Dwight Boyer was born in Elyria, Ohio, on November 18,1912, and moved with his family to Mentor, Ohio, when he was young. Boyer began taking photographs while a student at Mentor High School and sold some of his pictures to newspapers on a free-lance basis.
In 1937, Boyer married Virginia Stokes, and they had one son. Boyer was a reporter, photographer, and historian of the Great Lakes. His first job was in 1943 with the Erie Daily Times (Pennsylvania). He began his career working for the Toledo Blade (Ohio) in 1944 and then The Plain Dealer in 1954. Boyer authored five books on the Great Lakes and won many awards during his 23 years as a photojournalist for The Plain Dealer in Cleveland, Ohio.
A factual and entertaining chronicler of voyages upon the Great Lakes, Boyer collected and preserved a number of classic stories of the ships and men who sometimes met tragedy but who also often completed numerous voyages without incident. Motivated by what he considered an unconscionable slighting of the Great Lakes shipping industry, Boyer, in a respected series of books, championed the sailors who "put it all together." Recognized for his painstaking research, Boyer was able to correct a number of enduring misconceptions and debunk some outright myths. His series of books (Great Stories of the Great Lakes (1966), Ghost Ships of the Great Lakes (1968), True Tales of the Great Lakes (1971), Strange Adventures of the Great Lakes (1974), and Ships and Men of the Great Lakes (1977)) combined technical data with engrossing narrative. Many of the memorable personalities who risked their lives on the tumultuous waters are found throughout the pages of Boyer's works. Contemporary evidence (often collected from local news stories) adds credence to his plausible theories as to how it happened that many of the vessels met their demise. Boyer was a longtime resident of Willoughby, Ohio, and served as a trustee for both the Great Lakes Historical Society and the Fairport Harbor Historical Society. 
Dwight Boyer, who had suffered a series of heart attacks, died on October 15, 1978. He was 64 years old.
Books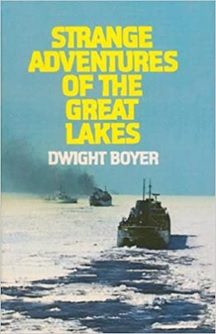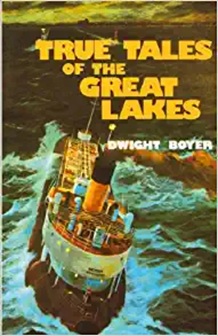 Awards
News media award from Ohio Optometric Association, 1975; Heywood Broun award from Cleveland Newspaper Guild for feature writing; award from Press Club of Cleveland; Sunday Magazine Editors Association award for photography.
Additional Resources
Wikipedia: Dwight Boyer