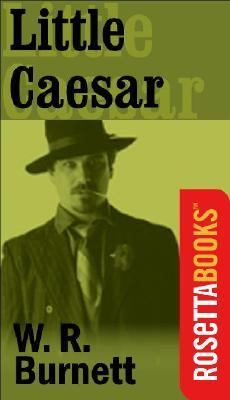 Born: November 25, 1899
Died: April 25, 1982
Ohio connection: Birth
Springfield
Although an author of Westerns and a successful screenwriter, William Riley Burnett is best known as the originator of the gangster novel. The underworld icons of sleek cars, flashy clothes, bootleg liquor, and tommy guns find their origins in Burnett's first novel, Little Caesar (1929). The popular and critical success of this novel and later novels High Sierra (1940) and The Asphalt Jungle (1949) inspired movies that became classics of film noir.
Burnett was born in 1899 into a wealthy household in Springfield. His grandfather had been mayor of Columbus, and his father was a governor's aide. Burnett dropped out of The Ohio State University after a semester spent studying journalism and playing football. After various jobs, including a tedious stint as a statistician for the State of Ohio, Burnett moved to Chicago and, as a hotel desk clerk, made the acquaintance of a minor gangster. "Barber" introduced Burnett to the Chicago underworld, and these experiences led to the writing of Little Caesar. This first novel contains the terse, clipped prose style that is a hallmark of any Burnett novel. A film version of Little Caesar appeared in 1930 with Edward G. Robinson in the title role.
In 1930, Burnett went to Hollywood as a consultant and screenwriter and eventually worked for all the major studios. He became one of the highest paid in the profession and saw 17 of his stories adapted to film. Burnett published novels almost annually through the 1950s. In his prolific career, he published 36 novels and accumulated more than 60 screen credits. Burnett died on April 25, 1982, and continues to be recognized as one of the leading influences of the mass culture of his time.
Awards:
O. Henry Memorial Award for best short story of 1930, for "Dressing Up"; High Sierra was named one of the ten best films of 1941 by the National Board of Review; Academy Award nomination for best screenplay, 1942, for Wake Island, and 1963, for The Great Escape; Writers Guild of America Award, 1949, for Yellow Sky, and 1963, for The Great Escape; The Asphalt Jungle was named one of the ten best films of 1950 by The New York Times; Edgar Allan Poe Award, 1951, and Grand Masters Award for contributions to the genre of crime writing and for originating the subgenre of the gangster novel, 1980, both from Mystery Writers of America; Screenwriters Award for best drama, 1963, for The Great Escape.
Additional Resources