Born: November 14, 1947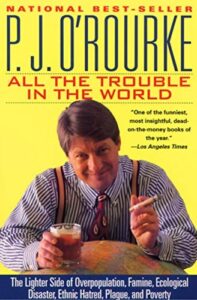 Died: February 15, 2022
Ohio connection: Birth
Toledo
Born and raised in Toledo, Ohio, journalist and satirist Patrick Jake "P.J." O'Rourke was the son of Clifford and Delphine (née Loy) O'Rourke. After receiving his undergraduate degree in 1969 from Miami University of Ohio, O'Rourke earned an M.A. in English in 1970 from Johns Hopkins University in Baltimore, Maryland, where he was a Woodrow Wilson Fellow.
After completing his education, O'Rourke worked for a short succession of underground counterculture magazines. In 1972, he moved to New York City where he found employment with National Lampoon. O'Rourke wrote articles for the magazine as well as its newspaper and yearbook parodies. In 1978, he became editor-in-chief and held the position until 1980. O'Rourke left National Lampoon in 1981 after having decided to focus on freelance writing.
In 1983, O'Rourke saw the publication of his first book, Modern Manners: An Etiquette Book for Rude People (reissued in 1989), followed by The Bachelor Home Companion (1986). Both books were parodies of the many popular handbooks on etiquette at the time. O'Rourke's other books included Holidays in Hell (1989), Parliament of Whores (1991), All the Trouble in the World (1994), Eat the Rich: A Treatise on Economics (1999), The CEO of the Sofa (2001), On the Wealth of Nations: Books that Changed the World (2007), Don't Vote! – It Just Encourages the Bastards (2010), Holidays in Heck (2011), Thrown Under the Omnibus (2015), and A Cry from the Far Middle: Dispatches from a Divided Land (2020).
O'Rourke's writing style is known as new journalism, characterized by the reporter's subjective interpretations, and often featured fictional dramatized elements to emphasize personal involvement. O'Rourke wrote for an eclectic group of magazines including American Spectator, Car & Driver, Rolling Stone, and The Atlantic Monthly. From 2011 until 2016, O'Rourke was a columnist for The Daily Beast. He also served as the H. L. Mencken Research Fellow of the Cato Institute.
O'Rourke died of cancer on February 15, 2022, at the age of 74.
Awards
Woodrow Wilson fellow, 1969-70; Merit Award, Art Directors Club, 1973; Gold Award, 1975; Merit Award, Society of Publication Designers, 1976; received other awards for visual excellence for the National Lampoon. 
Books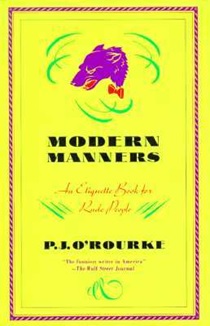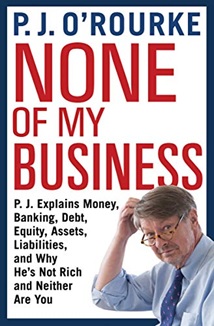 Additional Resources
Wikipedia Article: P. J. O'Rourke
P. J. O'Rourke. From the Independent Institute, a tribute to page that includes links to video, audio, and articles.