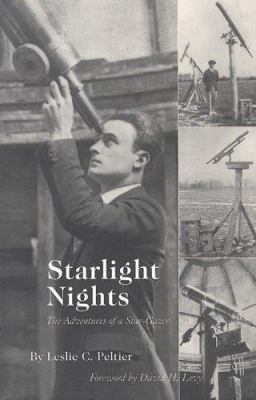 Born: January 2, 1900
Died: May 10, 1980
Ohio connection: Birth
Delphos
Leslie Copus Peltier, son of Stanley William and Resa (Copus) Peltier, was born in 1900 in Delphos, Ohio. Growing up on a farm in the country, he quickly developed a great love for nature. His mother introduced him to the wonders of the night sky by showing him the Pleiades when he was five years old, and his interest in astronomy took off from there.
Peltier attended Delphos High School. He married Dorotha Nihiser in 1933, and they had two children, Stanley and Gordon.
Peltier became one of the most renowned amateur astronomers in the United States and was known as "the world`s most famous amateur astronomer" for his discovery of twelve comets. He also made over 132,000 variable star observations for the American Association of Variable Star Observers (AAVSO).
Peltier was the author of five books: Starlight Nights: the Adventures of a Star-gazer (his autobiography, for which he won the Ohio Author of the Year Award in 1966); The Place on Jennings Creek (the story of his life at his home called "Brookhaven"); Leslie Peltier`s Guide to the Stars; Guideposts to the Stars: Exploring the Skies Throughout the Years; and The Binocular Stargazer: A Beginner`s Guide to Exploring the Sky.
Leslie Peltier died of a heart attack on May 10, 1980. He was called "the world's greatest non-professional astronomer" by Dr. Harlow Shapley, head of the Harvard College Observatory (1921–1952).
Awards
Ten Donohoe Comet medals, 1925-54; First Merit Award, American Association of Variable Star Observers, 1934; D.Sc., Bowling Green State University, 1947; Nova Medal, 1963; Ohioana Book Award, 1966; Blair Gold Medal, 1967.
Additional Resources
Peltier's obituary that appeared in the The Journal of the American Association of Variable Star Observers