Born: April 30, 1888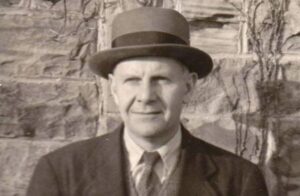 Died: July 3, 1974

Ohio connection: Resident

Gambier

Poet, editor, educator, and literary critic John Crowe Ransom was the son of Methodist minister John James Ransom (also a noted scholar and linguist) and Sara Ella (neé Crowe) Ransom. Born April 30, 1888 in Pulaski, Tennessee, Ransom was educated at home until, in October 1898, he entered public school at age ten. The following September, he entered the Bowen School, a preparatory school in Nashville, where he completed demanding studies in classical languages, English, history, mathematics, and German.
After graduating from Bowen School at the head of his class in June 1903, Ransom entered Vanderbilt University at age fifteen. He studied there for two years and then left to teach at Taylorsville High School in Mississippi (1905-06). In 1907, Ransom returned to his studies in Greek, Latin, and philosophy at Vanderbilt and graduated at the top of his class June 19, 1909. After teaching school in Tennessee, Ransom was selected as a Rhodes Scholar and moved to England to attend Christ Church College, Oxford. There he completed coursework in the School of Literae Humaniores, receiving his M.A. degree in 1913. After teaching Latin in a private school in Connecticut for a year, he joined the faculty at Vanderbilt University as an instructor of English.
In 1920, Ransom married Robb Reavill and they had three children. Ransom rose through the academic ranks at Vanderbilt to become professor of English in 1927. He remained an English department faculty member at Vanderbilt until 1937 when he moved to Gambier, Ohio, to join the faculty at Kenyon College as Carnegie Professor of Poetry. It was a position Ransom held until his retirement in 1958, and he was professor emeritus of poetry until his death in 1974.
It was in 1915, while teaching at Vanderbilt, that Ransom began meeting with a small group of colleagues, students, and friends to read poems and discuss philosophy. In the fall of 1921, the group's focus switched to poetry and criticism. Dismayed by the "moon-light-and-magnolia mystique of Southern literature," they called themselves the Fugitives. Other founding members included Allen Tate, Donald Davidson, and Robert Penn Warren. Ransom at the time, was the only published poet among the group. His first poetry collection, Poems About God (1919), was published by Henry Holt and Company during his commission in the U.S. military (1917-1919). In March 1922, Sidney Mittron Hirsch, the group's moderator, suggested that they start a literary magazine of their own. The Fugitive group wanted to elevate Southern writing—to show that writers of the American South could produce highly intellectual and carefully crafted literary art. The Fugitive, a poetry journal (1922-1925) helped illuminate that point. Although contributors to The Fugitive were mainly group members, after its fourth issue, upon solicitation, published the poems of Hart Crane, Robert Graves, Witter Bynner and others.
After the Fugitives stopped gathering in 1928, Ransom joined another group of intellectual southerners at Vanderbilt whose discussions centered on concepts of society and culture. Motivated by critics' image of the American South and united in their concern with the impact of a society driven by consumerism, industrialism, and urban growth on the quality of life, the group developed the agrarian movement. The Agrarians called for a return to an agrarian rather than an industrial economy. Their ideas were expressed in I'll Take My Stand: The South and the Agrarian Tradition (1930). Later, Ransom began to lessen his commitment to The Agrarians and proceeded to distance himself from the movement. His departure from Vanderbilt to Kenyon College in 1937 marked the completion of his gradual renunciation of Agrarianism in favor of literary criticism.
Ransom is noted for his groundbreaking method of analyzing literature, poetry in particular, which sparked a movement in literary theory called New Criticism. The principles of the new theory, which advocated focus on the text itself and emphasized close-reading, particularly of poetry, is described in Ransom's book The New Criticism (1941). It was the dominate mode of American literary criticism until the 1970s. Ransom promoted New Criticism in the Kenyon Review, the influential journal he founded at Kenyon College in 1939 and for which he served as editor for twenty years. The journal attracted diverse writers and published works by many southern authors.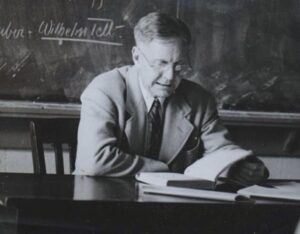 It's estimated that, overall, Ransom published 150 poems and roughly the same number of essays and articles. His works include literary criticism: The World's Body (1938), God Without Thunder: An Unorthodox Defense of Orthodoxy (1965); poetry collection: Poems About God (1919), Chills and Fever (1924), Grace After Meat (1924), Two Gentlemen in Bonds (1927), Selected Poems (1945); anthologies: The Poetry of 1900-1950 (1951), Poems and Essays (1965); textbook: A College Primer of Writing (1943). Ransom was an influential poet, critic, writer, and educator. The impact of his work is crystalized in a statement by fellow Fugitive poet Allen Tate, who said of Ransom: He was not so much teaching us literature as teaching us how it is possible to think about literature.
John Ransom Crowe died on July 3, 1974, at his home in Gambier, Ohio. He was 86.
Awards
Rhodes scholar, Oxford University; Guggenheim fellow, 1931; 1941 Bollingen Prize for New Criticism, 1951; Russell Loines Prize for poetry, 1951; honored at Chicago Poetry Day, 1957; Brandeis University Creative Arts Award, 1958-59; Academy of American Poets fellow, 1962; National Book Award, 1964, for Selected Poems; National Endowment for the Arts award, 1967; Emerson-Thoreau Medal, American Academy of Arts and Sciences, 1968; Gold Medal, National Institute of Arts and Letters, 1973.
Additional Resources
John Crowe Ransom. Learn more about one of the leading poets of his generation by linking to additional resources via Wikipedia.
John Crowe Ransom: May 1, 1963. Ransom reading a selection of poems, presented by San Francisco State University. See: SFSU Poetry Center Digital Archive
"The Fugitives." A Nashville Public Television original short documentary about the group of Vanderbilt University poets who help change the image of Southern literary art.
From The Kenyon Review, Summer 1968, Vol. XXX, No. 3. Poet, novelist, and literary critic Robert Penn Warren revisits his critic of John Crowe Ransom's poetry in "Notes on the Poetry of John Crowe Ransom at His Eightieth Birthday."