Born: October 13, 1890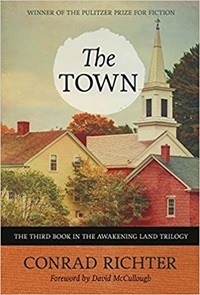 Died: October 30, 1968
Ohio connection: Resident
Cleveland
Conrad Michael Richter was born October 13, 1890, in Pine Grove, Pennsylvania, and grew up in a series of tiny coal mining towns with his parents: John Absalom, a Lutheran minister, and Charlotte Esther (Henry) Richter. Richter's formal schooling ended when he graduated from high school at the age of fifteen. For four years thereafter, Richter tried his hand at numerous jobs. He drove teams, worked on farms, cut timber, sold subscription magazines door-to-door, served as a bank teller, and clerked. Then, at nineteen, he became editor of a weekly Pennsylvania newspaper called The Patton Courier and discovered that he enjoyed journalism. He left Patton for reporting jobs in Johnstown and then in Pittsburgh, learning how to write "plain sentences against the discipline of a deadline" in the words of Saturday Review contributor John K. Hutchens. "Of his early jobs, reporting and editing most affected [Richter's] belletristic writing. As it had for Hemingway, journalism taught Richter concision of expression."
Eventually, Richter succumbed to wanderlust and took a job as private secretary to a wealthy family in Cleveland, Ohio, who provided him the means to travel widely. It was during this period (1910-1924) that one of his first short stories was accepted. In 1914, "Brothers of No Kin" was first published in Forum Magazine, and then was reprinted several times. Despite the piece's success, Richter had a very difficult time getting payment for it, but when the twenty-five-dollar check finally did arrived, he was still disappointed. He told the Saturday Review: "I thought to myself, if that's all I get for the kind of story I want to write, why go on?" He decided he'd continue with his business venture and write in his spare time. Richter went on to author more than fifteen books. 
Richter married Harvena Achenbach in 1915 and in 1928, Richter sold his small business and moved to Albuquerque, New Mexico, where he collected material on the American Southwest, much of it from primary sources: notes, rare books, newspapers, and manuscripts. He listened to the tales of his neighbors; Richter said it was "data from old men and women still alive." His research allowed him to author some of the most authentic depictions of American Frontier life in print. In 1933, he returned to writing fiction; the result was Early Americana and Other Stories (1936). Richter may be best known for his Ohio trilogy, The Trees (1940), The Fields (1946), and The Town (1950), which won the Pulitzer Prize for fiction. The trilogy was reprinted first in as The Awakening Land Other works include The Sea of Grass (1937), The Free Man (1943), A Light in the Forest (1953), The Lady (1957), The Waters of Kronos (1960), which won the National Book Award for fiction, and The Aristocrat (1968). Often set against the backdrop of the American Frontier, Richter's books call to mind the values of living that life, the encroaching "civilization," and the affects thereof. Richter returned to Pennsylvania in 1950 and spent the rest of his life living and writing there.
Conrad Michael Richter died in Pottsville, PA, on October 30, 1968; he was 78 years old.
Books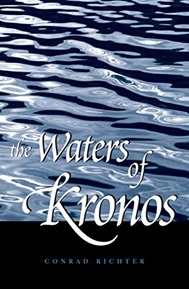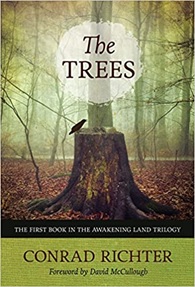 Awards
National Book Award nomination, 1937, for The Sea of Grass; Gold Medal for Literature from Society of Libraries of New York University, 1942, for The Sea of Grass and The Trees; Ohioana Library Medal, 1947; Pulitzer Prize for Fiction, 1951, for The Town; National Institute of Arts and Letters grant in literature, 1959; Maggie Award, 1959, for The Lady; National Book Award, 1961, for The Waters of Kronos.
Additional Resources
Wikipedia: Conrad Richter
Recommended
Johnson, David R. 2001. Conrad Richter: A Writer's Life. The Penn State Series in the History of the Book. University Park: Pennsylvania State University Press.