Born: June 15, 1931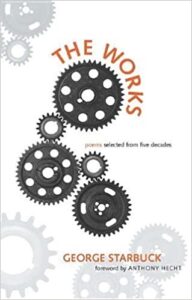 Died: August 15, 1996
Ohio connection: Birth
Columbus
George Edwin Starbuck, son of George W. and Anna Margaret Polaski (born Starbuck) Beiswanger, was born June 15, 1931, in Columbus, Ohio. George Edwin's surname was legally changed from Beiswanger to Starbuck after his parents' divorce. Starbuck grew up in Illinois and California. At age 16, he attended the California Institute of Technology but withdrew after two years (1947-49) to pursue studies in poetry. Starbuck studied for two years (1950-51) at the University of California, Berkeley, then attended the University of Chicago from 1954-1957 where he received his B. A. degree. Starbuck served in the U.S. Army Military Police Corps in California and Germany (1952-54) and finally ended his formal education after attending Harvard University for a semester (1957-58). Starbuck was married three times: Janice King (1958), Judith Luraschi (1962), and Kathy Dermand (1968).
In 1955, Starbuck began publishing his work in prominent magazines, e.g., Harper's, Atlantic Monthly, New Yorker, Paris Review, and Poetry. In 1959, he was named the Yale Series of Younger Poets winner for Bone Thoughts which was published the following year. His career path began with a position as editor in the trade department of the Houghton Mifflin Company, 1958-61. He was a fellow in the American Academy in Rome, 1961-63; librarian and lecturer, State University of New York at Buffalo, 1963-64; assistant/associate professor of English, University of Iowa Writers Workshop, 1964-67, and its director, 1967-70.
In 1970, Starbuck moved to Boston, Massachusetts, to join the faculty of Boston University, where he served as professor of creative writing and director of graduate programs. In 1974, Starbuck was diagnosed with Parkinson's disease. He retired in 1988 and moved to Tuscaloosa, Alabama, in 1990.
In his writing, Starbuck employed pun, parody, and an explosive wit. He's considered a master of poetic form, who fused Romantic themes with the cynicism of modern life. He published a number of books including Bone Thoughts (1960), White Paper (1966), Elegy in a Country Church (1975), Desperate Measures (1978), and The Argot Merchant Disaster (1982). Two books were published posthumously: Visible Ink (2002) and The Works: Poems Selected from Five Decades (2003).
George Starbuck died from complications of Parkinson's disease on August 15, 1996, at the age of 65.
Awards
Yale Series of Younger Poets Award, 1960; John Simon Guggenheim Memorial fellowship, 1961; American Academy and Institute of Arts and Letters award in literature, 1983; Prix de Rome of American Academy of Arts and Letters. Other honors include an Aiken Taylor Award for Modern American Poetry.
Additional Resources
Audio Recordings with George Starbuck. From the Library of Congress, also included: a brief biography and a link to his selected works.
George Starbuck via Wikipedia. Learn more about his life and career.