Born: November 9, 1872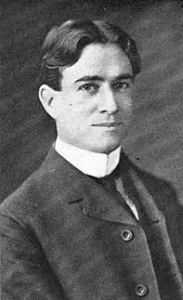 Died: May 13, 1962
Ohio connection: Birth
Chillicothe
Author, anthologist, and librarian Burton Egbert Stevenson was born in 1872 in Chillicothe, Ohio. He attended Princeton University, 1890-93, during which time he also worked as a correspondent for United Press and the New York Tribune, 1891-93. He was a reporter for the Chillicothe Leader, Chillicothe, Ohio, and 1893-94. He was city editor for the Chillicothe Daily News, 1894-98, and the Daily Advertiser, Chillicothe, 1898-99. He married Elizabeth Shepard Butler in 1895. He was librarian at the Chillicothe Public Library from 1899 until 1957.
In 1917, Stevenson created a book service program for servicemen at Camp Sherman in Chillicothe, Ohio. The program became the model for the national campaign for library service for the armed services, and Stevenson was appointed Director of Library War Service with the U.S. Expeditionary Forces in France. It is estimated that, under his directorship, over 2,000,000 books and thousands of magazines were distributed to the armed forces. After the war, Stevenson established the American Library in Paris, France, and was its director from 1918-20 and 1925-30. This led to his appointment as European director of the American Library Association`s Library War Service, a position he held for seven years.
Burton Stevenson was a prolific writer and is probably best known for his work as an anthologist. Popular works include The Home Book of Verse (1912), The Home Book of Quotations, Classical and Modern (1934), and The Standard Book of Shakespeare Quotations (1953), and The Home Book of Proverbs, Maxims, and Familiar Phrases (1959). One of his popular mystery novels, The Mystery of the Boule Cabinet, was adapted for a film with the title In the Next Room. His 1915 novel The Girl From Alsace: a Romance of the Great War (originally published under the title Little Comrade) was adapted for a film called On Dangerous Ground. Stevenson published four novels for young adults: Tommy Remington`s Battle (1902), The Young Section-Hand (1905), The Young Train Dispatcher (1907), and The Young Train Master (1909). His mystery novels include The Marathon Mystery; A Story of Manhattan (1904), The Gloved Hand: A Detective Story (1920), and The House Next Door: A Detective Story (1932).
Burton Egbert Stevenson died in his home in Chillicothe, Ohio, on May 13, 1962.
Books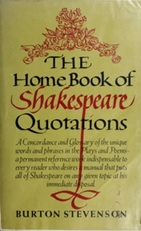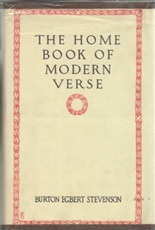 Awards
Ohioana grand medalist, Martha Kinney Cooper Ohioana Library Association, 1949; Litt.D., Marietta College, 1955.
Additional Resources
Wikipedia: Burton Egbert Stevenson