Born: April 21, 1935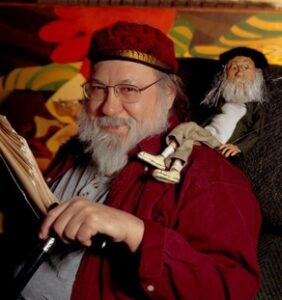 Died: May 6, 2004
Ohio connection: Resident

Cleveland

Daniel Thompson was a poet and activist who, in 1992, became the first Poet Laureate of Cuyahoga County, Ohio. A lifelong champion of civic and literary engagement, Thompson was born April 21, 1935, in Washington, D.C., but the Thompson family moved to Cleveland shortly after Daniel's birth. He spent much of his boyhood growing up on Cleveland's West Side but attended high school in Fort Wayne, Indiana. After graduating, Thompson spent a short time at Concordia Seminary in St. Louis, Missouri, but returned to Cleveland in 1955 to attend Fenn College (now Cleveland State University). He eventually graduated from Kent State University in 1966, receiving a B.A. in English and Philosophy.
In 1959, Thompson hitchhiked to San Francisco, California, which, at that time, was the epicenter of poetry's Beat movement. There he explored the city's poetry scene by attending readings. Soon after, he involved himself with poetry reading—which would become a mainstay in his public life. As a student at Kent State in the early 1960s, Thompson had already developed a reputation for having an anti-authoritarian streak. He was known around campus for having protested against the proliferation of nuclear arms and for being arrested as a Freedom Rider in 1961. He was also arrested for a breach of peace for entering the segregated waiting room designated for black customers at the Greyhound bus terminal in Jackson, Mississippi. Thompson was arrested more than 19 times, mostly in the American South, and spent time in Mississippi's notorious Mississippi State Penitentiary also known as "Parchman Farm." Thompson also marched alongside the Reverend Dr. Martin Luther King, Jr. in Chicago in 1966.
Daniel Thompson was a fixture of Northeast Ohio's literary scene. He founded Poetsbank and organized many poetry readings around the city to include annual commemorative readings on the birthday of Cleveland poets Hart Crane, Langston Hughes, and D.A. Levy. He founded "Junkstock,"  a poetry-reading, music, video-entertainment, and performance-art event, and the Hessler Street Fair, a music, art and poetry festival, in Cleveland. Thompson organized Cleveland's first poetry slam in 1992. He also contributed poems to various local publications and co-edited volumes of the ArtCrimes, a literary journal. In 1989, Thompson published Famous in the Neighborhood, his first poetry collection. He published six books: ArtCrimes 4, as editor (1988), Even the Broken Letters of the Heart Spell Earth (1998), The Rain Poet (2004), Double X (2004), and Comforting the Dead (2004). A collection of his poetry, The Big Book of Daniel, was published in 2011 by Bottom Dog Press. Daniel Thompson lived his life large, with fearlessness and fun. Portions of that life have been captured in two documentary films "Famous in the Neighborhood" (2008) and "Daniel Thompson: One Tough Poet," (2019).
In addition to his literary accomplishments, Thompson never ceased his social activism and civic engagements. He  delivered food, blankets, and water out of the trunk of his car to those who lived on the street. He conducted poetry and writing workshops and distributed poetry books to incarcerated individuals. One of his last charitable efforts was organizing Cleveland children in an effort to donate a cow to Kenya.
After battling Leukemia for several years, Thompson died on May 6, 2004, at the age of 69.
Awards/Honors
Daniel Thompson was commissioned the first Poet Laureate of Cuyahoga County in 1992. One year after his death, West 2nd Street, in downtown Cleveland, was renamed Daniel's Way.
Additional Resources
Daniel Thompson (Poet). Learn more about Cleveland's beloved cultural hero at Wikipedia.
"In Honor and Remembrance of Daniel Thompson, Poet Laureate of Cuyahoga County" by the Hon. Dennis J. Kucinich. Congressional Record, May 11, 2004.