Born: December 8, 1894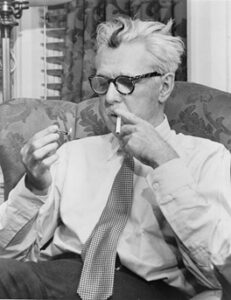 Died: November 2, 1961
Ohio connection: Birth
Columbus
James Grover Thurber was an author, cartoonist, journalist, and playwright known for his humor and wit. Born on December 8, 1894, in Columbus, Ohio, he was the son of Charles Leander Thurber and Mary Agnes (née Fisher) Thurber. After graduating from East High School in 1913, Thurber enrolled at Ohio State University. He wrote for the school paper, The Lantern, and was editor-in-chief of The Sundial, Ohio State's humor and literary magazine. In 1918, Thurber left Ohio State without completing his degree. He married Althea Adams in 1922; the couple had one child. The marriage ended in divorce, and Thurber married Helen Wismer in 1935.
Thurber's career as a journalist began at The Columbus Dispatch, where he worked from 1920-1924. After a brief period of freelancing, Thurber moved to Paris, where he worked as a reporter for the Chicago Tribune from 1925-1926. Thurber and Althea moved to New York City in June 1926, where Thurber started work as a reporter and feature writer for the New York Evening Post. His career at The New Yorker started in 1927; he remained a prominent contributor to the magazine for many years. With sardonic humor Thurber examined the follies of men and women, revealing them in his prose as well as his inimitable line drawings. Among his most famous works is "The Secret Life of Walter Mitty," a story about a mild mannered man who leads a fantasy life in which he appears over and over again as a hero. Thurber is also well remembered for his stories about growing up in Columbus, Ohio, including "The Night the Bed Fell," and "The Day the Dam Broke," both of which are included in My Life and Hard Times, published in 1933. Some of his other books include Is Sex Necessary? Or, Why You Feel the Way You Do? (1929 with E. B. White); The Seal in the Bedroom and other Predicaments (1932); The Middle-Aged Man on the Flying Trapeze (1935); Let Your Mind Alone! and Other More Or Less Inspirational Pieces (1937); Fables for Our Time and Other Poems Illustrated (1940); My World and Welcome to It (1943); Alarms and Diversions (1957); The Years with Ross (1959), and Lanterns and Lances (1961). His plays include The Male Animal, written with Eliott Nugent (1940) and The Thurber Carnival (1960), for which he won a special Tony Award. He also wrote books for children that include Many Moons (1943), The Thirteen Clocks (1950) and The Wonderful O (1957).
Thurber and Helen moved to Connecticut in 1936 and he officially leaves The New Yorker to freelance.
On October 3, 1961, Thurber suffered a stroke at his home in New York City. While in the hospital he developed pneumonia, and died November 2, 1961.
Books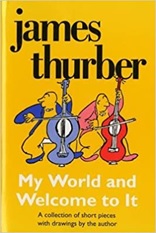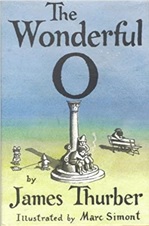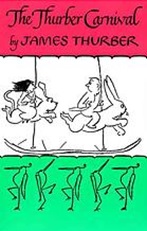 Awards/Honors
Ohioana Book Award second place, Martha Kinney Cooper Ohioana Library Association, 1944, for The Great Quillow; Book Award second place, Martha Kinney Cooper Ohioana Library Association, 1944, for The Great Quillow; Caldecott Honor Book, 1944, for Many Moons; Ohioana Book Award, Martha Kinney Cooper Ohioana Library Association, 1946, for The White Deer; Laughing Lions of Columbia University Award, 1949; Sesquicentennial Career Medal, Martha Kinney Cooper Ohioana Library Association, 1953; T-Square Award, American Cartoonists Society, 1956; Library and Justice Award, American Library Association, 1957, for Further Fables for Our Time; Special Antoinette Perry ("Tony") Award, 1960, for A Thurber Carnival; Certificate of Award, Ohio State University Class of 1916, for "Meritorious Service to Humanity and to Our Alma Mater," Ohio State University, 1961; Doctor of Letter degrees from Kenyon College in Ohio and Williams College in Massachusetts; Thurber Prize, established in 1997, an annual award that honors outstanding examples of American humor.
Additional Resources
Thurber House: About James Thurber
Wikipedia: James Thurber