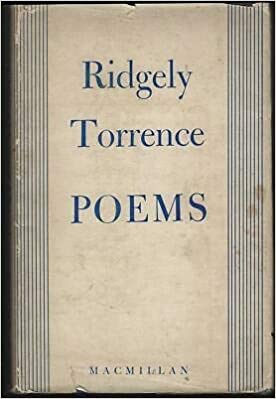 Born: November 27, 1874
Died: December 25, 1950
Ohio connection: Birth
Xenia
Frederic Ridgely Torrence, son of Findley David and Mary (Ridgely) Torrence, was born in 1874 in Xenia, Ohio. He attended Miami University of Ohio, 1893-95, and Princeton University, 1895-96. He worked as a librarian at the Astor Library and the Lenox Library, both in New York City, 1897-1903. He became an assistant editor for the Critic, 1903-05; fiction editor for Cosmopolitan, 1905-07; and poetry editor for New Republic, 1920-33. He was also a visiting professor at Miami University, 1920-21; and a poet-in-residence at Antioch College, 1938. The rest of his career was devoted to the writing of books, poetry, and plays.
Torrence was not known as a major player on the American literary scene but did have a significant role. He was a friend to several well-known poets including Robert Frost, William Vaughn Moody, and Edward Arlington Robinson. He also became known through his editorship on the influential New Republic. His first poetry collection, The House of a Hundred Lights: A Psalm of Experience after Reading a Couplet of Bidpai, was published in 1900. It was generally not highly regarded by critics but was Torrence's only published poetry collection until 1925 when Hesperides appeared. This collection was greeted with much more popular and critical acclaim. He did not publish another volume, however, until Poems in 1941. Some of Torrence's prose writings were El Dorado: A Tragedy; Abelard and Heloise; The Story of Gio from the Heike Monogatari, Retold by Ridgely Torrence; and The Story of John Hope. He also wrote several plays: Granny Maumee, The Rider of Dreams, Simon the Cyrenian: Plays for a Negro Theater and Common Sense: Play in One Act. He edited and wrote an introduction for Selected Letters of Edward Arlington Robinson and edited and wrote the foreword for Last Poems of Anna Hempstead Branch. He contributed to numerous periodicals, including Atlantic Monthly, Current Literature, Success, New England Magazine, Critic, and National Literary Magazine.
Ridgely Torrence died of cancer on December 25, 1950.
Awards
D.H.L., Miami University, 1937; Shelley Memorial Award, 1942; Poet of the Year, National Poetry Center, 1942; Academy of American Poets fellowship, 1947.
Additional Resources
Princeton University Library: Ridgely Torrence Papers