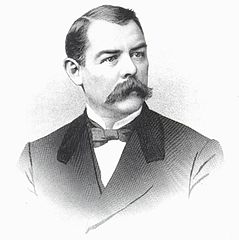 Born: May 2, 1838
Died: May 21, 1905
Ohio Connection: Birth
Williamsfield
Albion Winegar Tourgée, son of Valentine and Louisa (Winegar) Tourgée, was born in 1838 in Williamsfield, Ohio. He spent his early years on a farm where he developed the Republican values of Western Reserve reformism. After high school, Tourgée attended the University of Rochester for two years, after which he enlisted in the Union Army in 1861. He saw action in several key battles but had to resign from service in 1863 due to spinal injuries. During his war service, he spent four months in a Confederate prison which would have a major effect on his desire to become involved in the politics of the South.
In 1863, he married Emma Kilbourne with whom he would have one daughter.
After he was admitted to the bar in 1864, Tourgée and his wife moved to North Carolina where he took on many Black clients with the goal of helping them adjust to their newfound freedom. After joining the Republican Party in 1867, he was often derided and called "carpetbagger." However, even his enemies recognized his abilities, and he was eventually elected as a state superior court judge in 1868. Unfortunately, Tourgée and his wife became the victims of harassment, slander, and even death threats during this time. He lost his seat on the bench in 1874 and then began to devote his time almost solely to writing.
His novels, which were deeply influenced by the idealism of writers like Byron, Scott, Milton, and Burns, dealt largely with the conflicts between North and South during the Reconstruction period and focused on the oppression experienced by many former slaves. His first work, published in 1874 under the pseudonym of Henry Churton, was entitled Toinette: A Novel, and dealt with the Reconstruction. After the publication of this novel, he moved back north. His second novel, Figs and Thistles: A Western Story, was published in 1879. Tourgée began to truly make his mark in the publishing world with another 1879 book, A Fool`s Errand: By One of the Fools. This book depicts the struggles of a carpetbagger fighting for justice in a hostile South. In the sequel, Bricks Without Straw, a Southern black man struggles to find selfhood. These books were forceful and realistic and made him famous. In 1881, using money he earned from A Fool`s Errand, Tourgée started a weekly magazine, Our Continent, later named the Continent. It lasted only until 1884 until funds ran out. However, during its publication, it contained much work of interest by such authors as Harriet Beecher Stowe, Joel Chandler Harris, and Sarah Orne Jewett, as well as Tourgée himself. After the failure of the Continent, Tourgee went back to writing novels but none of them received the critical acclaim of A Fool`s Errand. He also immersed himself in political issues including campaigning for William McKinley for president. This ultimately led to his appointment as consul to Bordeaux, France, where he died, May 21, 1905.
Additional Resources
Wikipedia article with additional reference and external resources.