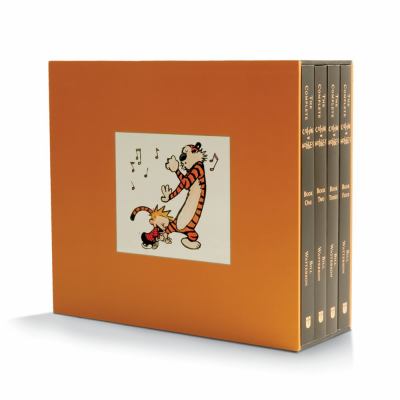 Born: 1958
Ohio connection: Resident
Chagrin Falls & Cleveland Heights
Bill Watterson, creator of the beloved comic strip "Calvin and Hobbes," was born in Washington, D.C., and moved with his family to Chagrin Falls, Ohio, when he was six years old. Watterson preferred to spend his time alone drawing — a talent he lent to his high school newspaper and yearbook and to his college newspaper, the Kenyon Collegian.
After graduating in 1980 with a degree in Political Science, Watterson landed a job as a political cartoonist for the Cincinnati Post. He left the Post after six months, however, and spent the next five years working various odd jobs while he created and submitted comic strip ideas to publishers. An idea he sent to United Features Syndicate included as minor characters a little boy named Calvin and his stuffed tiger toy, Hobbes. The syndicate urged Watterson to create a strip featuring the two characters. However, when Watterson refused to include a "Robotman" character the syndicate wanted for marketing purposes, United Features passed on "Calvin and Hobbes."
Eventually, Universal Press Syndicate accepted the strip and Calvin and Hobbes debuted on November 18, 1985. Within a few years, the strip was published in over 2,400 newspapers worldwide. Readers could not get enough of the exuberant, imaginative boy, his tiger toy that came to life when they were alone, and the adventures they had together. While Watterson could have made a fortune licensing the characters, he chose not to and instead published seventeen "Calvin and Hobbes" books. Something Under the Bed Is Drooling: A Calvin and Hobbes Collection (1988) was a bestseller for almost a year.
It was difficult for Watterson to enjoy the success of the strip at times due to the pressure to license the characters, something he simply did not want to do. He told the Los Angeles Times, "I wouldn't be doing this if I were just in it for the money." Watterson did gain creative control over his work in 1991.
After ten years, Watterson decided to end the strip. Fans last saw Calvin and Hobbes sledding off to new adventures on December 31, 1995.
Watterson, who now studies painting, lives in Ohio with his wife Melissa and their cats. Since Calvin and Hobbes ended, Watterson has occasionally released artwork including posters and non-Calvin-related comic strips.
Selected Awards
Winner of multiple Reuben, Eisner, and Harvey Awards; Grand Prix, Angoulême International Comics Festival, 2014.
Additional Resources
Wikipedia article on Bill Watterson
Interview with Bill Watterson (Billy Ireland Cartoon Library and Museum)