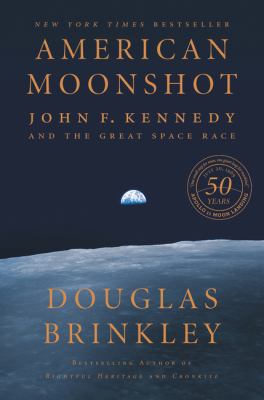 Born: December 14, 1960
Ohio connection: Former Resident
Perrysburg
Historian Douglas Brinkley was born in Atlanta, Georgia, but raised in Perrysburg, Ohio. He completed his bachelor's degree at The Ohio State University and received his doctorate in U.S. Diplomatic History from Georgetown University in 1989. Brinkley then spent a year at both the U.S. Naval Academy and Princeton University teaching history. While a professor at Hofstra University, Brinkley spearheaded the American Odyssey course, in which he took students on numerous cross-country treks where they visited historic sites and met seminal figures in politics and literature. His 1994 book The Majic Bus: An American Odyssey chronicled his first experience teaching this innovative on-the-road class which became the progenitor of C-SPAN's Yellow School Bus. Brinkley is co-author (with Stephen Kennedy Smith) of JFK: A Vision for America (2017), which tells the story—in words and pictures—of President John F. Kennedy's life and presidency, and depicts his compelling vision for America. Brinkley's book, Rightful Heritage (2016), chronicles Franklin Delano Roosevelt's passion and drive and analyzes the tension between business and nature with respect to our natural resources. Douglas Brinkley is the author/editor of more than 26 books, to include: American Heritage History of the United States (1998); Rosa Parks (2000); The World War II Memorial: A Grateful Nation Remembers (2004); The Reagan Diaries (2007) ed.; The Nixon Tapes: 1973 (2015), ed. with Luke A. Nichter. In 2019, Brinkley released American Moonshot: John F. Kennedy and the Great Space Race to mark the 50th anniversary of the moon landing. An adaptation of American Moonshot designed specifically for young adult readers was also released, providing the widest possible audience for this pivotal historical achievement.
Brinkley currently serves as the Katherine Tsanoff Brown Professor in Humanities at Rice University and Fellow in History at Rice University's Baker Institute for Public Policy. He is also presidential historian for CNN and a contributing editor at Vanity Fair.
Awards:
Six of Douglas Brinkley's books have been selected as New York Times "Notable Books of the Year": Dean Acheson: The Cold War Years (1992), Driven Patriot: The Life and Times of James Forrestal, with Townsend Hoopes (1992), The Unfinished Presidency: Jimmy Carter's Journey Beyond the White House (1998), Wheels for the World: Henry Ford, His Company and a Century of Progress (2003), The Great Deluge: Hurricane Katrina, New Orleans, and the Mississippi Gulf Coast (2006), and The Wilderness Warrior: Theodore Roosevelt and the Crusade for America (2010).  Seven of his publications have become New York Times best-sellers.  He won the Benjamin Franklin Award for The American Heritage History of the United States (1998), was awarded the Business Week Book of the Year Award for Wheels for the World, and the Ohioana Book Award for Nonfiction, 2007.  In 2009 The Wilderness Warrior: Theodore Roosevelt and the Crusade for America won the National Outdoor Book Award.  In 2013, Brinkley received the Ann M. Sperber Biography Award for Cronkite (2012).
Additional Resources