Born: October 29, 1906
Died: March 11, 1972
Ohio connection: Birth
Cincinnati
Fredric Brown was born in 1906 in Cincinnati, Ohio. His father, S. Karl Lewis, was a newspaperman and his mother, Emma Amelia, was a homemaker. Brown's early life was difficult. His mother passed away in 1920, when he was fourteen years old. His father died the following year. Fredric was left to live with friends and relatives through high school. After graduation, he got a job as an office boy with a small factory until the company closed in 1924. He then worked odd jobs and spent a year at Hanover College in Hanover, Indiana, and a year at the University of Cincinnati. In 1929, Brown married Helen Ruth, a woman he had known only through a series of letters they had exchanged by mail. In 1930 the couple moved to Milwaukee, Wisconsin. Brown worked as a proofreader and typesetter for the Milwaukee Journal; his professional writing career began in 1936 when he began to sell mystery short stories to such pulp magazines as Street & Smith's Detective Story, Thrilling Detective and Detective Fiction Weekly. 
After a decade of publishing his short stories in magazine, Brown's first mystery novel, The Fabulous Clipjoint was published in 1947. It won the Edgar Award for outstanding first mystery novel.  In addition to his mystery novels, Brown also wrote science fiction novels and short stories. His first science fiction story, "Not Yet the End," was published in Captain Future in 1941. His short story "Arena," was used as the basis for the episode of the same name in the original Star Trek (season 1, episode 8) science-fiction television series. The story was also adapted in 1973 for Issue 4 of Marvel Comics' Worlds Unknown. In the 1950s Brown moved to Tucson, Arizona, where he wrote screenplays for television and movies.
Brown was a prolific writer, the author of 23 mystery novels, five science fiction novels, one mainstream novel, and over 250 works of short fiction. Brown loved clever wordplay; his stories are characterized with dry wit, unusual narrative structures and clever plots with twist endings. His admirers include the likes of Douglas Adams, Philip K. Dick, Neil Gaiman, Stephen King, and Mickey Spillane. Perhaps the only writer to have written classic-level work in mystery and science-fiction, Brown is considered to have been one of the most versatile and engaging writer to ever work in the both genres. 
Fredric Brown died in Tucson, Arizona, on March 11, 1972; he was 65.
Books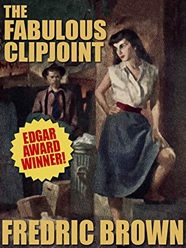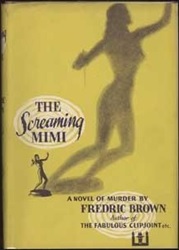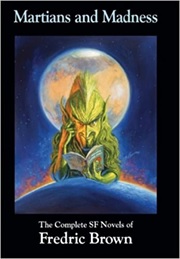 Awards
1948 Edgar Allan Poe Award, Best First Novel, for The Fabulous Clipjoint
Additional Resources
Wikipedia: Fredric Brown; Bibliography