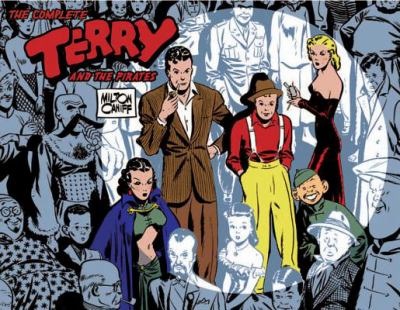 Born: February 28, 1907
Died: April 3, 1988
Ohio connection: Birth
Hillsboro
An award-winning cartoonist, Milton Caniff began drawing the Boy Scout page for a local newspaper at age thirteen. Best known as the creator of the comic strips "Terry and the Pirates" and "Steve Canyon," Caniff once considered a career in acting.
Graduating from The Ohio State University in 1930, his adventure strip "Terry and the Pirates" (1934-46) caught the public's imagination. A boy, Terry Lee, and his tutor, Pat Ryan, traveled throughout the Orient encountering villains such as the voluptuous pirate queen known as the Dragon Lady. Combining action, romance, humor, and a fast pace, the strip was a success. Caniff was unable to join the military, but his comic strip "Male Call," syndicated in military newspapers during World War II, was popular with American soldiers. Featuring Miss Lace in battles against the Axis enemy, the strip was credited with helping to boost morale. Caniff went on to create "Steve Canyon" (1947-88) featuring the adventures of a U.S. Air Force colonel. Circulated in 600 newspapers throughout the country, "Steve Canyon" earned Caniff many awards from the U.S. Air Force, and he was honored with a special "Steve Canyon Day" at the 1964 World's Fair. To create his adventure strips with their superior artwork and exciting stories, Caniff spent fourteen to sixteen hours at the drawing board every day. Unique among cartoonists at the time, he used live models to pose for his drawings.
An accomplished oil painter as well as a cartoon artist, Caniff died of lung cancer April 3, 1988.
Awards:
Reuben Award, National Cartoonists Society, 1946, 1972; honorary doctorate of law, Atlanta Law School, 1948; Sigma Delta Chi distinguished service award, 1950; Freedoms Foundation, award, 1950, certificate of merit, 1953, National Service Medal, 1967, for "creative editorials and cartoons which brilliantly espouse the precepts of human freedom," George Washington Honor Medal, 1969; Medal of Merit, U.S. Air Force Association, 1952; U.S. Treasury citation, 1953; Ohioana Career Medal, 1954; D.F.A., Rollins College (Florida), 1956; U.S. Air Force Exceptional Service Award, 1957; Ohio Governor's Award, 1957; Boy Scouts of America, Silver Beaver Award, 1960, Distinguished Eagle Award, 1969, Silver Buffalo Award, 1976; New York World's Fair Silver Medallion, 1964; National Cartoonists Society Golden Scroll, 1964; Goodwill Industries Award, 1965; New York Philanthropic League Award, 1965; Aerospace Education Council Award, 1966; named Man of the Year, U.S. Air Force Association, 1966; YMCA Service to Youth Award, 1966; first Elzie Segar Award, San Francisco Press Club, 1971; D.H.L., The Ohio State University, 1974; Inkpot Award, 1974; Order of Constantine, Sigma Chi, 1976; Good Guy Award, American Legion, 1978; D.F.A., University of Dayton, 1979; the Milton Caniff Research Library established at The Ohio State University, 1979; Spirit of American Enterprise Award, 1981; named to National Comic Strip Hall of Fame, 1981; named honorary member of the 8th Air Force Historical Society, 1987, for "Male Call" comic strip; Scroll of Merit, Dayton Art Institute; War Department citation for "Male Call"; Fourth Estate Award; received numerous awards from U.S. Air Force and other organizations for distinguished service.