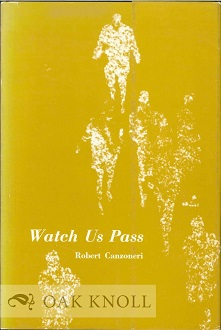 Born: November 21, 1925
Died: December 4, 2010
Ohio connection: Former Resident
Columbus
Robert Wilburn Canzoneri was born in San Marcos, Texas, the son of Joe and Mabel (Barnett) Canzoneri. He received a B.A. degree from Mississippi College in 1948, an M.A. from the University of Mississippi in 1951, and a Ph.D. from Stanford University in 1965. He married Candyce Barnes. He taught English at several colleges, becoming professor of English at The Ohio State University in 1968, where he was then Professor Emeritus. He was the original Director of the Creative Writing Program at Ohio State. Canzoneri wrote non-fiction, novels, short stories, and poetry. His titles included I Do So Politely: A Voice from the South (non-fiction); Watch Us Pass (poems); Men With Little Hammers (novel); and Barbed Wire and Other Stories (short stories). Robert Canzoneri died on December 4, 2010.
Canzoneri's obituary appeared in The Columbus Dispatch on Dec. 7 and 8, 2010. The following is an excerpt: Robert W. Canzoneri, born November 21, 1925, died December 4, 2010, at home, surrounded by friends and dogs. Bob was the author of several books of fiction, nonfiction, and poetry, and his work appeared in many anthologies; he was Emeritus professor of English, and original Director of the Creative Writing Program (now the MFA) at Ohio State. Bob got his undergraduate degree at Mississippi College, his Masters at Ole Miss, and his Ph.D. at Stanford University. During WWII, Bob was a decorated Naval Airman (tail gunner on a PB4Y-1) in the Pacific. He is preceded in death by his parents Mabel (Barnett), and Joe Canzoneri, by his awesome dogs: Bear, Topper, Boots, Toddles, and The Dude. He is survived by Blue and Big Mac; his wife of 38 years, Candy; his son, (Tony); daughter, (Nina); and several grandchildren.
Awards:
Danforth teacher study grants, 1960, 1963, 1964; Henry H. Bellamann Foundation Award in writing, 1965.