Born: September 19, 1957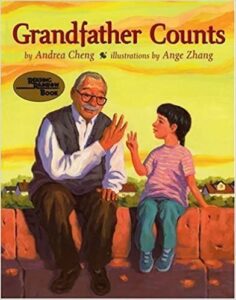 Died: December 26, 2015
Ohio connection: Resident
Cincinnati
Children's book author and educator Andrea Cheng was born in El Paso, Texas.  The daughter of Hungarian immigrants who grew up and lived most of her life in Cincinnati, Ohio, she and her two siblings grew up in an extended family, which Cheng once described as being "three generations under one roof." In 1979, after graduating from Cornell University with a BA in English and a master's degree in Teaching English as a Second Language, Cheng went to Switzerland, where she learned French, taught English, and apprenticed to a bookbinder. Upon her return to the United States, she went back to Cornell to study Chinese and got an MS in linguistics. In 1982 she married Jim Cheng, whom she met during her studies. They raised three children.
Cheng was aware at the age of eleven that she wanted to become a writer. During her career, she authored more than 20 books for children and young adults. Her books often focused on intercultural and inter-generational relationships.  One of her more personal works is the middle-grade novel in verse Brushing Mom's Hair (2009), which is based on Cheng's experience of undergoing breast cancer treatment and how it affected her teen daughter at the time. In 2013, Cheng published Etched in Clay: The Life of Dave, Enslaved Potter and Poet, and in April 2017 The Year of the Garden, a prequel to the four books in the series, was published.
In addition to her writing, Cheng taught English as a Second Language and Children's Literature at Cincinnati State Technical and Community College.  
Andrea Cheng died on December 26, 2015 following a long illness; she was 58.
Awards:
Cooperative Children's Book Center (CCBC) Choice designation, 2000, and Society of School Librarians International Best Book Honor designation, 2001, both for Grandfather Counts; Young Reader selection, On the Same Page reading program (Cincinnati, OH), and Association of Jewish Librarians Notable Book of Jewish Content designation, both 2002, and Ohioana Book Award finalist in Juvenile Category, and New York Public Library Books for the Teen Age designation, both 2003, all for Marika; Parents' Choice Award, and Kansas National Education Association Recommended designation, both 2003, both for Anna the Bookbinder; Parents' Choice recommendation, 2004, for Honeysuckle House; New York Public Library 100 Best Children's Books designation, 2005, and Bank Street College Children's Book of the Year, and Asian/Pacific American Honor Award, both 2006, all for Shanghai Messenger; Smithsonian magazine Notable Children's Book designation, and Bank Street College of Education Best Children's Books of the Year selection, both 2008, both for The Bear Makers; Ohioana Book Award finalist, and Bank Street College of Education Best Children's Books of the Year selection, both 2008, both for Where the Steps Were.
Additional Resources
Wikipedia: Andrea Cheng