Perhaps you've already seen "From Cleveland to Krypton," the Superman exhibit running currently at Cleveland Public Library, and were impressed by the amount of influence this beloved American icon has had–and continues to have–in our culture.  Maybe you left the exhibit wondering why it is that Superman, who has been incarnated in varying images since first published in DC Comics more than 79 years ago, still matters to us.  Well, one man will provide an answer.
Mark Waid, the Eisner Award-winning comic book writer and one of the comic industry's best and most prolific writers, known for his work on titles for DC Comics, will answer the question "Why Superman Matters" in a lecture at Lake Erie College on Wednesday, October 11, 2017 at 7:00 p.m.  The cost of admission is $5.00 at the door for non-Lake Erie College staff and students.  After the lecture, Waid will sign his work.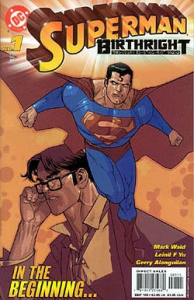 To learn more about Mark Waid, and upcoming related events, read the online article:  "Comic author Mark Waid explains 'Why Superman Matters' (Journey Into Comics)" by Michael Sangiacomo of The Plain Dealer.
Lake Erie College is located at 391 W. Washington Street, Painesville, OH.