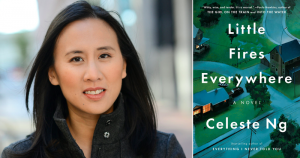 Meet Celeste Ng, author of Little Fires Everywhere.  Celeste's second novel is set in Shaker Heights and explores the weight of secrets, the nature of art and identity, the ferocious pull of motherhood – and the danger of believing that following the rules can avert disaster.
A member of the SHHS Class of 1998, Celeste  graduated from Harvard University and earned an MFA from the University of Michigan where she won the Hopwood Award.  Her fiction and essays have appeared in the New York Times, One Story, The Guardian, TriQuarterly, and elsewhere, and she is a recipient of the Pushcart Prize, the Massachusetts Book Award, the American Library Association's Alex Award, and a fellowship from the National Endowment for the Arts.
Currently, she lives in Cambridge, Massachusetts with her husband and son.
Celeste will be visiting the Shaker Middle School on Monday, November 6th at 7:00 PM.  Registration through Shaker Heights Library is currently open.
http://shakerlibrary.evanced.info/signup/EventDetails?EventId=23181&ag=&et=&df=calendar&cn=0&private=0&ln=ALL&backTo=Calendar&startDate=2017/11/01