Born: January 31, 1872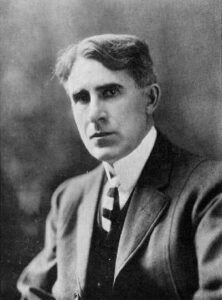 Died: October 23, 1939
Ohio connection: Birth
Zanesville
Pearl Zane Grey was born on January 31, 1872, to Lewis Gray, a traveling preacher and dentist, and his wife Alice. The family changed the spelling of its last name to "Grey" shortly after his birth. Grey grew up in Zanesville, Ohio, the town named for his ancestor Ebenezer Zane who, in 1796, had been granted the land on which the town was founded.
From a young age, Grey was an enthusiastic reader whose preference for adventure stories would later express itself in his writings. Grey concentrated his early efforts on sports, succeeding eventually in becoming an excellent baseball player. This skill brought him to the notice of a scout from the University of Pennsylvania who offered Grey a baseball scholarship to relocate to Pennsylvania. While not as attentive to his studies as to sports, Zane did well enough to earn a degree in dentistry in 1896. Later that year, Grey, declining several offers to play professional baseball, opened his first dental practice on West 74th Street in New York City in order to be close to the center of the publishing and writing world. While halfheartedly presiding over his dental practice Grey enthusiastically dove into his writing, completing a fictional account of his ancestor Ebenezer's wife, Betty Zane. When his work failed to arouse the interest of the publishing houses, Zane published it himself and began to work on a sequel. It was around this time that he began to use "Zane" as his first name. Another change came on November 21, 1905, when Zane married Lina Elise Roth who was 11 years his junior and the daughter of a successful New York doctor.
Grey's first novel, Betty Zane (1903), was a mild success in New York. but it never garnered any national attention and failed to recoup its cost. Despite this, its sequel, The Spirit of the Border (1906), was eventually sold to a publisher. After a few more financially unrewarding novels, Grey traveled west to write the biography of Colonel C. J. ("Buffalo") Jones, one of many characters produced on America's frontier. This venture also proved a failure with no one willing to publish the resultant manuscript. Yet this trip, which cost the Greys the last of Lina's inheritance, did introduce Grey to the Old West, a subject which would make him and his books a commercial success. Shortly after his return and inspired by his trip to Arizona, Zane wrote The Heritage of the Desert (1910). Two years later, he published Riders of the Purple Sage, which eventually sold over a million copies. With this success Grey's future was assured, and he was able to settle into an active life of fishing, hunting, traveling, and writing centered around his new home in Altadena, California. His success as a writer continued unchecked, and he eventually wrote 89 books which had sold over 30 million copies by the mid 1950's. It is said that Grey made three important contributions to the Western genre: creation of the figure of the mysterious outlaw or gunfighter enlisted to fight for good, writing from a woman's point of view, and establishing the Western environment as a "test of character." Although his popularity has waned over the years, it is this formula that still keeps many of Zane's books in print to this day. Grey wrote 60 Western novels, six children's books, eight books about fishing, two hunting books, and several short story collections.
Zane Grey died of a heart attack on October 23, 1939, while practicing casting a fishing line off the front porch of his Altadena estate.
Books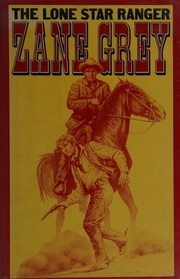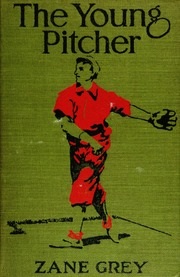 Additional Resources
Wikipedia Article with a number of resources and links to archival materials.