Born: September 2, 1829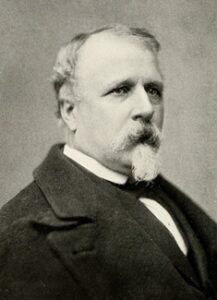 Died: July 2, 1908
Ohio connection: Birth
Paddy's Run
Murat Halstead, son of Griffin and Clarissa (Willetts) Halstead, was born in 1829 in Butler County, Ohio. He was raised on a family farm but his heart was more in academic endeavors than in farming. He spent many hours at the local public library and hoped to have a career in law. In 1848, Halstead entered Farmers' College, near Cincinnati, Ohio, where he wrote articles for local newspapers while studying there. After completing his studies in 1851, Halstead practiced law and continued to write articles for the local newspapers. He later decided to work as a journalist full time and, in 1853, began as a reporter for the Cincinnati Commercial. In 1865, he was named news editor for the Commercial. In 1883, the Commercial merged with the Cincinnati Gazette to become The Cincinnati Commercial Gazette. Halstead was considered an astute observer of the political scene; he personally covered political conventions and was a war correspondent. In 1857, Halstead married Mary Banks; they had twelve children.
Halstead wrote several biographies and contemporary histories, including Our Country in War and Relations with All Nations (1898), Full Official History of the War with Spain (1899), Life and Achievement of Admiral Dewey from Montpelier to Manila (1899), The illustrious Life of William McKinley: Our Martyred President (1901) and Pictorial History of the Louisiana Purchase and the World's Fair at St. Louis (1904).
Murat Halstead died July 2, 1908 in Cincinnati.
Additional Resources
Wikipedia: Murat Halstead