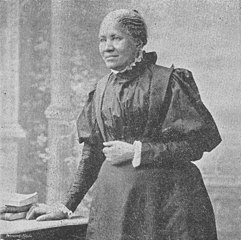 Born: September 24, 1825
Died: February 22, 1911
Ohio connection: Former Resident
Cincinnati
Frances Ellen Watkins Harper was born September 24, 1825, in Baltimore, Maryland to free parents but was orphaned by age three. She was raised by an aunt and uncle and studied Bible, literature, and public speaking at Academy for Negro Youth, a school founded by her uncle William Watkins.  Her first job at thirteen was caring for the children of a bookseller. There she began writing, composing poems, and reading the popular literature of the period. At 14, she needed to work but could only find jobs in domestic service and as a seamstress.  She published her first volume of poetry in Baltimore about 1845, Forest Leaves or Autumn Leaves, but no copies are now known to exist.
Frances moved from Maryland, a slave state, to Ohio, a free state, in 1850, the year of the Fugitive Slave Act. In Ohio, she taught domestic science as the first woman faculty member at Union Seminary (Columbus), an African Methodist Episcopal (AME) school which later was merged into Wilberforce University.  A new law in 1853 prohibited any free black persons from re-entering Maryland. In 1854, Frances Ellen Watkins Harper moved to Pennsylvania for a teaching job in Little York. The next year she moved to Philadelphia. During these years, she became involved in the anti-slavery movement and with the Underground Railroad. Her first abolitionist speech was a marked success. She lectured frequently on abolitionism in New England, the Midwest, and California, preaching social and political reform and moral betterment.  Her poetry was published in poetry magazines and newspapers. Her Poems on Miscellaneous Subjects, published in 1854 with a preface by abolitionist William Lloyd Garrison,  sold several thousand copies and saw at least twenty editions. Containing her most-acclaimed abolitionist poem, "Bury Me in a Free Land," it firmly established Harper's literary reputation.
Thought to resemble the poetry of Henry Wadsworth Longfellow, John Greenleaf Whittier, and Felicia Dorothea Hemans, Harper's largely narrative verse uses rhymed tetrameter and the ballad stanza, both "well suited to some of her material" and creating "an excellent elocutionary patter," commented J. Saunders Redding in To Make a Poet Black. Emotionally charged and frequently didactic (with authorial intrusions), the poems mirrored the conventions of the day and were tailored to Harper's social intent and to audience expectations. Varying little in form, language, or technique, the verse is simple, direct, and lyrical. In 1860, she married Fenton Harper in Cincinnati and they bought a farm in Ohio.  Frances retired from public life and had a daughter, Mary. Fenton died in 1864.
Widowed, Frances returned to lecturing, financing the tour herself and taking her daughter with her. Following the Civil War, she traveled south for the first time and saw the appalling unfair treatment, flagrant voting rights violations, meager educational opportunities, and overt physical abuse of freed blacks, especially of black women of Reconstruction. Harper determined that "a free people could be a moral people only when the women were respected," according to Larsen Scruggs, of Black American Literature Forum. Harper appealed to women of all colors to work towards social equality.  To that end, she founded YMCA Sunday Schools, and was a leader in the Women's Christian Temperance Union (WCTU). She joined the American Equal Rights Association and the American Women's Suffrage Association, working with the branch of the women's movement that worked for both racial and women's equality. In 1893, a group of women gathered in connection with the World's Fair as the World's Congress of Representative Women. Harper joined with others including Fannie Barrier Williams to charge those organizing the gathering with excluding African American women. Harper's address at the Columbian Exposition was on "Women's Political Future." Realizing the virtual exclusion of black women from the suffrage movement, Frances Ellen Watkins Harper joined with others to form the National Association of Colored Women. She became the first vice-president of the organization.
The poet breaks with conventional meter and sentiment, creating a correspondence between subject and technique, in Moses: A Story of the Nile, considered her best work. This volume is an extended blank-verse biblical allegory without overt racial references. Recounting the life of the Hebrew patriarch and focusing on his leadership and self-sacrifice, Harper urges similar leadership and sacrifice among blacks. Her daughter, Mary E. Harper never married, and worked with her mother as well as lecturing and teaching. Mary died in 1909. Though Frances Harper was frequently ill and unable to sustain her travels and lecturing, she refused offers of help.
Frances Ellen Watkins Harper died in Philadelphia on May 22, 1911, and was buried at Philadelphia's Eden Cemetery. The largest collections of Harper's books and papers are housed at the Moorland-Spingarn Research Center at Howard University in Washington, DC, and at the Schomburg Center for Research in Black Culture at the New York Public Library.
Additional Resources
Frances Ellen Watkins Harper article at the National Women's History Museum
Frances Ellen Watkins Harper article at Wikipedia with more additional resources