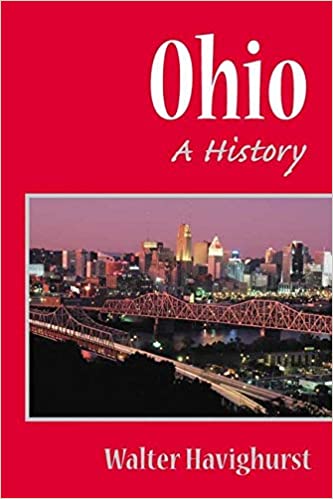 Born: November 28, 1901
Died: February 3, 1984
Ohio connection: Former Resident
Oxford
Walter Havighurst, son of Freeman Alfred and Winifred (Weter) Havighurst, was born in 1901 in Appleton, Wisconsin. He received a B.A. from the University of Denver in 1924, and an M.A. from Columbia University in 1928. He married a writer, Marion Boyd, in 1930. After a time as a merchant seaman, Havighurst began a long tenure with Miami University in Oxford, Ohio. He served as assistant professor, 1928-35; associate professor, 1935-42; professor of English, 1942-49; research professor, 1949-68; Regents professor, 1968-69; and research professor emeritus, from 1969 until his death in 1994.
His simultaneous career as an author focused on historical matters, both fiction and non-fiction. Most of his writings centered on the old Northwest Territory, the region between the Ohio River and the Great Lakes. Some of his earlier works deal with his experiences as a merchant seaman, in areas such as Hong Kong, London, and Alaska. Havighurst was a prolific writer. His writing career began with Pier 17: A Novel, published in 1935. In the 1960s, he began to write for children as well as adults. His titles include Upper Mississippi: A Wilderness Saga; The Winds of Spring; The Long Ships Passing: The Story of the Great Lakes; Land of Promise: The Story of the Northwest Territory; Annie Oakley of the Wild West; The Heartland: Ohio, Indiana, Illinois; River to the West: Three Centuries of the Ohio; and Ohio: A Bicentennial History. Juvenile titles include The First Book of the Oregon Trail; The First Book of the California Gold Rush; and Proud Prisoner. Walter Havighurst died February 3, 1994 in Richmond, Indiana.
Awards
Ohioana Library Association Medal, 1946-50; Friends of American Writers award, 1947, for Land of Promise: The Story of the Northwest Territory; D.Litt., Lawrence University and Ohio Wesleyan University, both 1947; Ohioana Book Award (with Marion Havighurst), 1949, for Song of the Pines: A Story of Norwegian Lumbering in Wisconsin; Association for State and Local History award, 1956, for Wilderness for Sale: The First Wisconsin Land Rush, and 1964, for Voices on the River: The Story of the Mississippi Waterways; L.H.D., Miami University, 1960, and Marietta College, 1961; History Prize, Society of Midland Authors, 1971, for River to the West: Three Centuries of the Ohio; elected to Ohio Hall of Fame, 1981.
Additional Resources
A Tribute To Walter Havighurst, 1994 (Miami University)
Works by and about Walter Havighurst (Internet Archive)