Born: September 11, 1862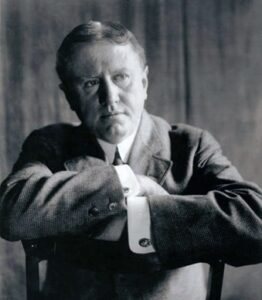 Died: June 5, 1910
Ohio connection: Resident
Columbus
O. Henry was born William Sidney Porter, son of Algernon Sidney and Mary Jane Virginia (Swaim) Porter, in 1862 in Greensboro, North Carolina. He changed the spelling of his middle name to Sydney in 1898. When Porter was three years old, his mother died and he was raised by his paternal grandmother and an aunt. Though he loved to read, he quit school at the age of fifteen, working in a drug store and later on a ranch in Texas. He moved to Houston and held several jobs there, including that of bank clerk. He moved to Austin in 1882, where he started a humorous weekly called "The Rolling Stone." After it failed, he worked for the Houston Post as a reporter and columnist. In 1887, Porter married Athol Estes. They had one child, Margaret, before Athol died in 1897. Also in 1897, Porter was convicted of embezzling money from a bank for which he had worked. There is some debate over whether he was actually guilty of the crime. In 1898, he entered the Ohio State Penitentiary. He began to write short stories while in prison, hoping to earn money to support his daughter. His first story, "Whistling Dick`s Christmas Stocking," appeared in McClure`s magazine in 1899. After serving three years of a five-year sentence, Porter was discharged from prison in 1901 and he changed his name to O. Henry. In 1902, he moved to New York City, where he wrote one story each week for the New York World. His first book, Cabbages and Kings, a novel, was published in 1904. Most of his books, however, were short story collections, such as The Four Million (1906), which includes the well-loved story "The Gift of the Magi," Heart of the West (1907), The Voice of the City (1908), The Gentle Grafter (1908), and Roads of Destiny (1909). O. Henry published a total of more than six hundred short stories during his lifetime. His writings were very popular from around 1910 until 1930, largely because of the surprise endings, which came to be known as characteristic of the "O. Henry style." He wrote over 300 short stories, however, he also wrote poetry and nonfiction.
O. Henry's last years were extremely difficult, due to struggles with poor health, alcoholism, and financial distress. He married Sara Lindsey Coleman in 1907, but the marriage failed and they separated after a year.
William Sydney Porter, the writer known as O. Henry, died of cirrhosis of the liver June 5, 1910.
Additional Resources
Wikipedia: O. Henry
LibriVox: O. Henry