Born: October 14, 1893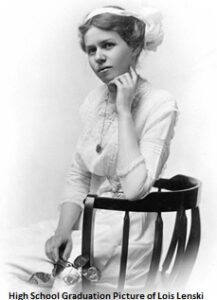 Died: September 11, 1974
Ohio connection: Birth
Springfield
Lois Lenski was one of the most prominent and highly respected authors and illustrators of books for children and young adults. Born in Springfield, Ohio, in 1893, Lenski was the daughter of Marietta (Young) Lenski, a former teacher, and Richard Charles Henry, a Lutheran minister. Her family moved to nearby Anna, a small rural community of some 200 in 1899. In their educated, religious household, books were an important part of life. Lenski fictionalized her childhood in her first two books, Skipping Village (1927) and A Little Girl of Nineteen Hundred (1928). The family library included classics, and Lenski and her brothers and sisters treasured the children's books of the day. The family also subscribed to several magazines, and the Youth's Companion was ordered especially for the children. In high school, Lenski had easy access to a public library and read voraciously. Charles Dickens was a favorite and his vivid portrayal of real people came to influence her own writing. After her graduation from Ohio State University in 1915, where she received a bachelor of science degree in education, Lenski studied at the Art Students' League in New York and the Westminster School of Art in London, where she received an A.S.L. degree. She began a career illustrating the books of other writers. During a career that spanned fifty years, she illustrated some 50 books of other writers including Kenneth Grahame, Veronica Hutchinson, Hugh Lofting, Maud Hart Lovelace, and others. In 1921, she married Arthur S. Covey, a former teacher of hers who became well known as a painter and muralist.  In 1929, they moved to Harwinton, Connecticut.
Lenski was prolific! Her work includes children's picture books, illustrated chapter books, short stories, and essays about books and children's literature. Not only did she illustrate the books of other writers, she also published 98 books of her own. Lenski is credited with presenting accurate, well-researched portrayals of American society and received praise for her keen observations and understanding of children. In her popular "Mr. Small" books, Lenski wrote about commonplace, straightforward activities (e.g., driving a car or sailing a boat) or vocations (e.g., fireman, train engineer, policeman, and others) that had universal appeal and provided children with a secure, familiar world. These include The Little Family (1932), The Little Auto (1934), The Little Sailboat (1937), and The Little Airplane (1938), Cowboy Small (1949), Papa Small (1951), and Policeman Small (1962).
In 1936, Lenski began a series of historical books for preteens. The meticulously researched titles include Phebe Fairchild: Her Book (1936) and Indian Captive: The Story of Mary Jemison (1941), both Newbery Honor Books. In the 1940s, Lenski felt a need for change regarding her writing. Having a desire to feel more connected her characters, she wanted to "get out to see people and get to know them." The first book published as a result was Bayou Suzette (1943); it received the 1944 Ohioana Award. Lenski is considered a pioneer in the development of regional juvenile literature for her stories about life in the North-central and Southeastern United States. America. From 1943 to 1968, Lenski researched and wrote 17 regional novels for the intermediate grades which took her to many lesser-known parts of America to see how the people lived, especially children. Strawberry Girl (1945) received the Newbery Medal in 1946.
Lenski was also a poet. She wrote her first book (Skipping Village) in verse but was persuaded by her editor to rewrite it in prose. She started writing poetry again in 1952, during an illness and published The Life I Live: Collected Poems in 1964. After nearly a half century of writing and illustrating books for children and young adults, Lenski penned her autobiography, Journey into Childhood (1972), two years before her death.
Lois Lenski died in her home in Tarpon Springs, Florida, on September 11, 1974. She was 80 years old.
Books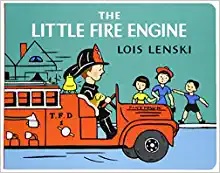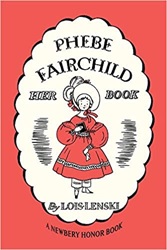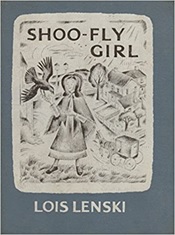 Awards/Honors
Newbery Honor Book, American Library Association (ALA), 1937, for Phebe Fairchild: Her Book; Newbery Honor Book, 1942, for Indian Captive: The Story of Mary Jemison; Martha Kinney Cooper Ohioana Medal, 1944, for Bayou Suzette; John Newbery Medal, 1946, for Strawberry Girl; ALA Notable Book citation, for The Little Fire Engine; Child Study Association of America/Wel-Met Children's Book Award, 1947, for Judy's Journey; Litt.D., Wartburg College, 1959; L.H.D., University of North Carolina at Greensboro, 1962; D.Litt., Capital University, 1966, and Southwestern College, 1968; Regina Medal, Catholic Library Association, 1969, for lifetime work in the field of children's literature; University of Southern Mississippi Special Children's Collection Medallion, 1969.
Additional Resources
Wikipedia: Lois Lenski
The Lois Lenski Covey Foundation. The Lois Lenski Covey Foundation is dedicated to advancing literacy and fostering a love of reading among underserved and at-risk children and youth.