Born: May 29, 1921
Died: March 31, 2014
Ohio connection: Birth
Zanesville
George Edwin Laycock was born in Zanesville, Ohio. He received a B.S. degree from Ohio State University in 1943. That same year, he married Ellen M. Van Auken, and they would have three children. Laycock`s career began with Farm Quarterly, Cincinnati, where he served as associate editor from 1947 until 1951, at which time he began to focus solely on freelance writing. Laycock was a prolific writer who authored more than 50 books predominantly about nature and the environment. Many of his books are self-illustrated, containing many of Laycock's own photographs. In 1979, he published The Complete Beginner's Guide to Photography. A number of his books are written for children, including The Deer Hunter's Bible (1963), Never Pet a Porcupine (1965), The Alien Animals (1966), King Gator (1968), Animal Movers: A Collection of Ecological Surprises (1971), Wingspread: A World of Birds (1972), Strange Monsters and Great Searches (1973), and People and Other Mammals (1975). Autumn of the Eagle (1974), perhaps his best book, was a National Book Award sciences finalist.
Laycock published over 100 articles and made contributions to Popular Science, Boys' Life, Audubon, Sports Illustrated, Outdoor Life, Field and Stream, and Reader's Digest. He was also a field editor for Audubon magazine. Laycock's nature writing, no doubt, was influential in the establishment of Earth Day. George Laycock's papers are archived at the Denver Public Library.
George Laycock died March 31, 2014 in Cincinnati, Ohio; he was 92 years old.
Awards
Boys' Clubs of America Junior Book Award, 1966, for Never Pet a Porcupine; National Book Award nomination in sciences, 1974, for Autumn of the Eagle; Excellence in Craft Award, Outdoor Writers Association of America, 1983; Johnson Award for writings on water sports; Jade of Chiefs Award, Outdoor Writers of America; Boys' Clubs of America awards for best-liked books; five Science Teachers of America awards for outstanding books for young people.
Books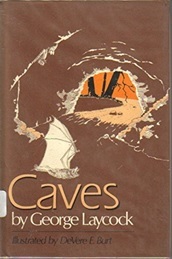 Additional Resources
George Laycock Papers