Cleveland Public Library
Literature Department, 2nd Floor
Main Library, 325 Superior Ave.
Monday, January 22, 2018 | 12:00 PM
Join us as we begin our public poetry readings for 2018! On Monday, January 22, 2018 at 12:00 p.m., Cleveland Public Poetry open mic poetry reading series will feature Khaty Xiong. After a Q&A, the mic will open for others. If you don't want to read, that's okay. Just listen and enjoy the work of our featured poet and others. Let's gather together to celebrate the new year with the beauty of poetry and the spoken word.  Feel free to bring your lunch; there will be light snacks and refreshments, and door prizes too!  For more details contact the Literature Department/Ohio Center for the Book at 216.623.2881.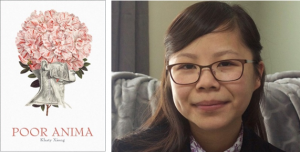 About the Poet
Khaty Xiong was born to Hmong refugees from Laos and is the seventh daughter of fifteen brothers sisters. She is the author of the debut collection Poor Anima (2015), which is the first full-length collection of poetry published by a Hmong American woman in the U.S. Xiong is also the author of three chapbooks: Ode to the Far Shore (2016); Deer Hour (2014); Elegies (2013, winner of the Merriam-Frontier Award). She has received a fellowship from The MacDowell Colony (2017) and an Ohio Arts Council Individual Excellence Award (2016) in recognition of her poetry. Xiong's work has been featured in The New York Times and How Do I Begin?: A Hmong American Literary Anthology. Xiong's work has appeared on websites, including Poetry Society of America, Academy of American Poets, and Poetry Foundation.
For a free pdf download of Ode to the Far Shore, made available by Platypus Press, click on the link above.