Book lovers from Cleveland Public Library (CPL) and Literary Cleveland will discuss Benjamin Percy's fiction, comics, and essays in anticipation of his appearance in Cleveland on August 3rd and 4th. Pull up a chair (and a book) and join this literary chat!
12:00 noon Monday, July 30th.
In partnership with Literary Cleveland and in celebration of the Writers & Readers series at Cleveland Public Library, Nick, Valentino, Lee, and Jay will talk turkey about Benjamin Percy and his new novel The Dark Net.  Join us and engage with these witty and talented book geeks as they discuss what Entertainment Weekly describes as a " techno-thriller from comic book writer and novelist Benjamin Percy, [which] features an unlikely squad of characters trying to protect the real world from the unsavory underbelly of the internet and the malevolent forces it conceals."
How do I join our Live Writers & Readers Facebook Live Book Club with CPL video broadcast?
Log in or create a new Facebook account, locate the News Feed, then use the Facebook Live "Follow Button" to subscribe.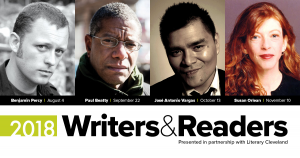 Future dates for Writers & Readers Facebook Live Book Club with CPL:
Paul Beatty–The Sellout, September 17th
José Antonio Vargas–Dear America: Notes of an Undocumented Citizen, October 8th
Susan Orlean—The Library Book, November 5th
To learn more about our Writers & Readers series this year
https://cpl.org/eventsclasses/writers-readers/