National Book Festival 2018 has ended and, according to officials at the Library of Congress, a sponsor of the festival since 2001, tens of thousands of readers of all ages attended this year's festival. Held September 1, at the Walter E. Washington Convention Center in Washington, D.C., it is estimated to have been the largest attendance (at least 200,000) in the festival's 18-year history. It is also reported that "thousands more watched the festival's Main Stage streamed live on the Library's Facebook page."
Ohio Center for the Book in the Pavilion of States.  As a state affiliate of the Library of Congress Center for the Book, the Ohio Center for the Book at Cleveland Public Library was there in the Pavilion of States. The day was both exhilarating and exhausting for OCFB staff, as enthusiastic readers of all ages visited the Ohio booth to learn about the Buckeye State and to receive book festival souvenirs: Ohio Literary Map, Ohio Authors Activity and Coloring Book, Choose to Read Ohio (CTRO) booklist poster, and more. One highlight was the appearance of author Shelley Pearsall to the Ohio booth.
Readers Discover "Great Places" Map. The Institute of Museum and Library Services, with additional funding from the National Endowment for the Humanities, makes it possible for an affiliate of the Library's Center for the Book in each of the 50 states, the District of Columbia and the U.S. territories to participate in the festival. The "Discover Great Places Through Reading" brochure offers a list of 52 great reads and a map for kids that encourages them to visit all 52 affiliates to get a unique sticker or stamp.
Readers Meet Shelley Pearsall. Ohio author Shelley Pearsall's award-winning book, The Seventh Most Important Thing was selected as Ohio's "Great Read." Visitors to the Ohio booth had the opportunity to meet author Shelley Pearsall, who also signed books, bookmarks, and The Seventh Most Important Thing Choose To Read Ohio toolkit.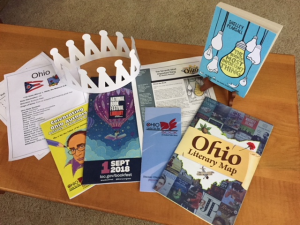 Held annually since 2001, the Library of Congress National Book Festival is free and open to the public. The 19th Library of Congress National Book Festival is scheduled for August 31, 2019.
OCFB staff would like to thank Shelley Pearsall, the volunteers from the Junior League of Washington, D.C., and all the visitors to the Ohio booth for helping to make this a truly wonderful experience!