Born: October 26, 1946

Died: May 22, 2020
Ohio connection: Birth
Mount Vernon
Robb Reavill Forman was born in 1946 in Mt. Vernon, Ohio, the daughter of Dr. Oliver Duane (a neurosurgeon) and Helen (neé Ransom) Forman. In 1950, she moved with her family to Baton Rouge, Louisiana, but she did not lose her connection to Ohio. Robb Forman often spent summers in Ohio while growing up in Louisiana and, when she was a senior in high school, lived with her maternal grandfather, the poet, critic and educator John Crowe Ransom. Robb Forman attended Louisiana State University. In 1968, she married Charles Burgess Dew who was a professor there. That same year, the couple moved to Columbia, Missouri. In 1977, they moved to Williamstown, Massachusetts.  
Dew's writing career was launched in 1981 with the publication of her first novel Dale Loves Sophie to Death, which won the American Book Award (now known as the National Book Award) for a first novel. Her other novels include The Time of Her Life (1984), Fortunate Lives (1992), The Evidence Against Her (2001), The Truth of the Matter (2005), and Being Polite to Hitler (2011). Her other books, A Southern Thanksgiving: Recipes and Musings for a Manageable Feast (1992) and The Family Heart: A Memoir of When Our Son Came Out (1994), are works of nonfiction. In a 1984 New York Times review, book critic Michiko Kakutani said of Dew, "Mrs. Dew as a writer with a special gift for charting the subtle tidal flow of emotions that make up daily life." Of her own writing, Dew said that it was her Southern upbringing that shaped her fiction. Dew also contributed stories to numerous periodicals, including Mississippi Quarterly, Southern Review, Virginia Quarterly, and The New Yorker. 
Robb Forman Dew died in Springfield, Massachusetts, of heart disease on May 22, 2020. She was 73 years old.
Awards
1982 National Book Award, first novel for Dale Loves Sophie to Death; 1982 John Simon Guggenheim Memorial Foundation Fellow. 
Books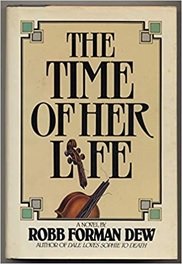 Additional Resources
"Robb Forman Dew, 1946-2020" A moving tribute by Dew's friend, writer Gail Godwin.
"Author Robb Forman Dew Discusses Her Memoir." A 1994 Fresh Air interview with NPR's Terry Gross about Dew's memoir The Family Heart: A Memoir of When Our Son Came Out.