Born: 1974
Ohio connection: Birth
Cincinnati
Nigerian-American writer Nnedimma Nkemdili Okorafor (formerly Okorafor-Mbachu) was born on in Cincinnati, Ohio. A writer of fantasy, science fiction and speculative fiction for both children and adults, Okorafor's novels and stories reflect her Nigerian heritage and her life in the United States. Okorafor's books have generated a fan base that include others writing in the genre, such as Neil Gaiman and George R. R. Martin. Okorafor holds a BA in Rhetoric from the University of Illinois at Urbana-Champaign, a master's degree in Journalism from Michigan State University, a master's degree and a PhD in English from the University of Illinois at Chicago.
One of four children of Nigerian immigrants who moved to the United States in the late 1960s to pursue their education, Okorafor grew up in Chicago suburbs. During her childhood, frequent trips to Nigeria exposed Okorafor to her extended Igbo family and she became familiar with Nigerian myths and culture. Okorafor did not grow up dreaming of becoming a writer. She was talented athlete who excelled at tennis and track. Okorafor thought she'd become a professional athlete or, because of her love of insects, an entomologist. A change of course came at the age of 19, when Okorafor was paralyzed after undergoing surgery to correct scoliosis. It was during her stay in the hospital that she discovered her talent for writing. As she said in a 2016 interview, "I went from being the super athlete to being paralyzed within 24 hours. I could either have gone mad in that hospital bed or found some way to keep myself from going mad. The only way I could stop myself from going mad was by writing stories." Okorafor worked hard to restore the use of her legs, and was able to return to school, walking with a cane. After taking a course in creative writing at a friend's suggestion, Okorafor began to imagine that she could become a writer.
Okorafor's writing style is compelling and descriptive, with themes of choice and powers of culture. She is best known for world-building Afrofuturistic science fiction, post-apocalyptic fiction, and science fantasy. Her work that includes novels, novellas, essays, and short stories has won numerous prestigious awards. In 2016, Okorafor became one of only four authors in the past 20 years to win both the Hugo Award and the Nebula Award for Binti, the story of a mathematically gifted young African woman who must leave her family and customs to attend the galaxy's most respected university.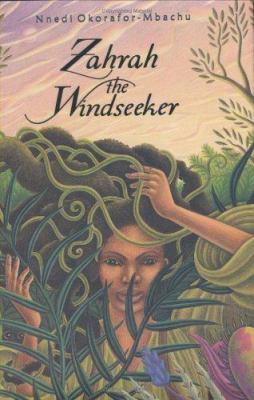 Okorafor's first novel for the young adult audience Zahrah the Windseeker was published in 2005. An illustrated version of the book, published in Nigeria in 2008, won the Wole Soyinka Prize for Literature in the same year. Her second novel, The Shadow Speaker (2007), won the Carl Brandon Parallax Award. Okorafor won the 2007-08 Macmillan Writer's Prize for Africa for her children's book Long Juju Man (2009). Okorafor's first novel for an adult audience, Who Fears Death (2010), a magical realist novel that combines African literature and science fiction, brought her a great deal of attention. It won the 2011 World Fantasy Award for Best Novel and the Carl Brandon Kindred Award. It was also a Nebula and Locus Awards nominee. In 2019, Broken Places & Outer Spaces: Finding Creativity in the Unexpected, which Okorafor has described as "part memoir, part science fiction, part lots of things" was published.
Okorafor's other books include a Secret of the Never Mine (2012), a children's book, Lagoon (2014), The Book of Phoenix (2015); The Binti Trilogy: Binti (2015), Binti Home (2017) and Binti: The Night Masquerade (2018). The first book in her Akata series, Akata Witch, was published in 2011 and Akata Warrior, the second book in the series was published in 2017. Okorafor has also written comics, authoring the digital series Black Panther: Long Live the King and Shuri (Marvel), Antar: The Black Knight (IWD), and LaGuardia (Dark Horse).
Awards:
2005 – The Strange Horizons Reader's Choice Award for Stephen King's Super-Duper Magical Negroes (2004); 2007/2008 – Macmillan Writers' Prize for Africa for Long Juju Man; 2008 – Carl Brandon Parallax Award for The Shadow Speaker; 2008 – The Wole Soyinka Prize for Literature for Zahrah the Windseeker; 2012 – The 2012 Black Excellence Award for Outstanding Achievement in Literature (Fiction) for Zahrah the Windseeker; 2012 – Kindred Award for Who Fears Death; 2011 – The World Fantasy Award (Best Novel) for Who Fears Death; 2016 – The Nebula Award (Best Novella) for Binti; 2016 – Children's Africana Book Award for Best Book for Young Readers for Chicken in the Kitchen; 2016 – The Hugo Award for Best Novella for Binti.