Born: 1951
Ohio connection: Birth
Cincinnati
Karen Ackerman was born in 1951 in Cincinnati, Ohio, she graduated from Woodward High School in 1969. Although she was never inspired to be an author while growing up, Ackerman knew she had stories to tell, or to write.  Her books focus on families and the benefits of intergenerational relationships. She published her first children's book in 1982 and has since written over 25 books for children. With stories about a whaling ship commander and the early days of the motion picture industry, Ackerman's books open a window into the American past for children. Her books include: Bean's Big Day (2004), In the Park with Dad: A Story for Kids Whose Parents Don't Live Together (1996), The Night Crossing (1994), By the Dawn's Early Light (1994), Leaves in October (1991), Just like Max (1990), The Song and Dance Man (1988), and Flannery Row (1986).
Karen Ackerman lives in Ohio. She loves to read and encourages young writers and illustrators not to give up their dreams due to rejection. Giving inspiration she says, "Sometimes you're the pigeon; sometimes you're the statue!  The important thing is to keep writing!"
Work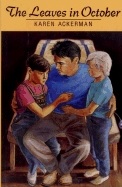 Awards: 1986 Parents' choice Award and the society of Midland Authors Award for Juvenile Fiction for Flannery Row; 1989 Caldecott Medal for Song and Dance Man, illustrated by Stephen Gammell.