Born: January 10, 1872 or 1873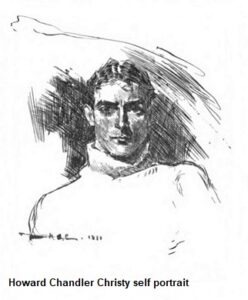 Died: March 3, 1952
Ohio connection: Birth
Morgan County
Howard Chandler Christy was born in Morgan County, Ohio. There are differing accounts regarding the year of his birth (1872 or 1873), but the talent and versatility of this artist/illustrator is quite clear.
While growing up on his parents' farm in Duncan Falls in nearby Muskingum County, Christy showed more interest in adventures in and around the Muskingum River and in painting. When he was twelve, Christy left formal schooling to help his parents on the farm and to use his spare time to work on his sketches and drawings. In 1889, Christy spent several months in New York City studying art. He returned to New York in 1892 to enroll in the Art Students League and the National Academy of Design where he studied with some of the best art teachers in the United States including William Merritt Chase who took him on as a private student.
During the Spanish-American War, Christy accompanied the Second United States Regulars to Cuba. He witnessed Teddy Roosevelt's "Rough Riders" in action and drew pictures. His articles and pictures were published in Harper's Weekly. He became well known through his picture "The Soldier's Dream" which was published in Scribner's magazine. Christy's murals adorn the Ohio Statehouse. His most famous painting, "Scene at the Signing of the Constitution of the United States" hangs in the United States Capitol in Washington.
In his obituary, published March 4, 1952, in The New York Times, Christy is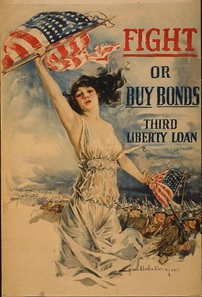 said to have grown tired of painting mostly men and began painting female figures in nearly everything. "Even if it was a battle scene, he found some way of introducing a woman." Within a few years, Christy had "unintentionally" created "The Christy Girl," an image of ideal beauty typical of the time. In paintings, posters and advertising images, the "Christy Girl" came to represent the "new woman" at the beginning of a new century. Christy married twice. In 1898, he married Maebelle Gertrude Thompson, the first Christy Girl model; they were divorced in 1919. He married Nancy Palmer, a Christy Girl model who, reportedly, was the inspiration for his "Americans All" and "Fight or Buy Bonds" war-era posters.
Christy went on to create illustrations for a number of books, including a Dodd, Mead edition of Hamlet; Wanted – a Matchmaker; The Cavalier; The Crisis; The Courtship of Miles Standish; The Castaway; and Evangeline. He produced illustrations for many magazines, including Scribner's, Leslie's Weekly, Ladies' Home Journal, Harper's, and Century.
In 1921, Christy decided to give up illustrating to devote his time to painting portraits. He painted the portraits of many celebrities and political figures including Amelia Earhart, Will Rogers, Presidents Calvin Coolidge and Franklin Delano Roosevelt, and others. Pastel Portraits from the Romantic Drama, a portfolio of some of his best works, was published in 1899.
Howard Chandler Christy died March 3, 1952, in his studio at the Hotel des Artistes in New York City. His death was attributed to a heart attack. He was 80 years old.
Awards:
Received medals from the Paris Exposition, the Chicago Exposition, the National Academy of Design, and the Society for Sanity in Art, all 1941. He was elected to the Society of Illustrators Hall of Fame in 1980.
Additional Resources:
Howard Chandler Christy. Learn more about Christy's life, artistry and legacy via Wikipedia.
Treaty of Greenville. From the Ohio Statehouse Video Archive, an overview of the treaty and its depiction in a painting by Howard Chandler Christy.
Signing of the Constitution. From the Architect of the Capitol website, details of what is, perhaps, Howard Chandler Christy's most famous painting.
Books Illustrated. Howard Chandler Christy's artistry is captured in novels and narrative poetry. Here are images of a few from Wikimedia.
The Courtship of Miles Standish by Henry Wadsworth Longfellow (1903)
The Man in Lower Ten by Mary Roberts Rinehart (1909)
The Lady of the Lake by Sir Walter Scott (1910)