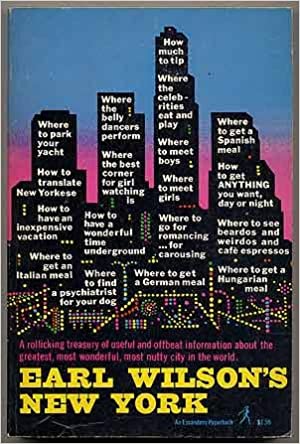 Born: May 3, 1907
Died: January 16, 1987
Ohio connection: Birth
Rockford, Mercer County
Harvey Earl Wilson, son of Arthur Earl and Cloe (Huffman) Wilson, was born in 1907 in Rockford, Ohio, in Mercer County.
A budding career as a news reporter began while he was in high school when he worked as a sportswriter for a local weekly. Wilson went on to attend Heidelberg College and Ohio State University, receiving a B.S. from Ohio State in 1931.
In 1936, he married Rosemary Lyons, and the couple would have one child, Earl Wilson, Jr.
Wilson's most famous newspaper work was his syndicated column "It Happened Last Night" which reported show business news. The column started in the New York Post in the 1940s and was eventually published by approximately three hundred newspapers. His columns were known for their humorous human interest stories of show business people.
Wilson was also the author of a number of books including I Am Gazing into My Eight-Ball (1945); Pike's Peak or Bust (1946); Let 'Em Eat Cheesecake (1949); Look Who's Abroad Now (1953); Earl Wilson's New York (1964); Show Business Laid Bare (1974); and Sinatra: An Unauthorized Biography (1976). He also wrote for magazines, including Esquire, Liberty, and the Saturday Evening Post.
Earl Wilson died January 16, 1987, in Yonkers, New York.
Additional Resources
A finding aid to the Earl Wilson Papers, 1936-1964 archive at the UW-Madison Libraries
Earl Wilson's entry at the Internet Movie Database