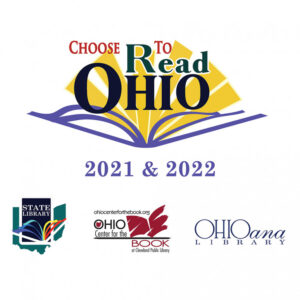 The 2021 & 2022 Choose to Read Ohio program cycle officially kicks off this month with the release of readers' toolkits for the 2021 & 2022 CTRO booklist, which features 20 notable titles for all ages and reading levels. As with each CTRO program cycle, the booklist includes five books each for young children, middle grades, teens, and adults, and encompasses fiction and nonfiction and a variety of geographic and cultural interests. Ohio librarians, teachers, and other book experts help to select the biennial CTRO booklist. They consider quality and reader appeal, but also how well each book lends itself to group discussion and to school activities and library programs.
To support and encourage book discussion groups, library programs, and other activities to bring readers together around books, the CTRO Advisory Council creates a readers' toolkit for each CTRO book. Each toolkit includes an author biography, discussion questions, extension activities, and resources to engage curiosity and explore themes in depth. Toolkits for all 115 books previously selected to CTRO since its inception in 2009 are available for free download on the CTRO website. Toolkits for the 2021 & 2022 books are being added as they are completed. Toolkits for the following books are now available:
Choose to Read Ohio (CTRO) spotlights Ohio authors and illustrators and promotes reading across Ohio. Started in 2009 by the State Library of Ohio and the Ohioana Library, CTRO celebrates the bounty and diversity of published literature by Ohioans and invites Ohioans of all ages to read and enjoy books together.