Born: March 26, 1936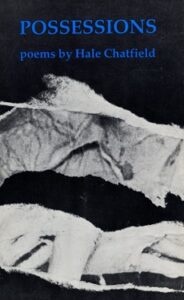 Died: November 23, 2000
Ohio connection: Resident
Huntsburg
Author, editor, poet, educator, and educational software designer, Eugene Hale Chatfield was born March 26, 1936, in Passaic, New Jersey. He graduated from Grover Cleveland High School in Caldwell, New Jersey, and received a B.A. degree in 1957 from Wesleyan University in Connecticut and an M.A. in 1963 from Rutgers University. He married Denise Zedeik in 1957.
Chatfield joined the faculty at Hiram College in 1964 as professor of English where, in 1966, he founded The Hiram Poetry Review. As its editor, Chatfield headed the literary journal when it won the Ohioana Library Association Award for Editorial Excellence in 1985. Chatfield also held other positions at Hiram College including Dean of Students (1971-74) and Dean of Campus Life (1980-82) before retiring in 1998.
Hale Chatfield wrote and edited eighteen books including ten poetry collections that include Possessions: Poems (1984), At Home (1971), Water Colors with drawings by Jeanne Meinke (1979), and What Color Are Your Eyes? (1978). He contributed literary criticism pieces to Kenyon Review, Milton Quarterly, Northeast, Trace, and University Review. His poems were published in numerous anthologies and literary journals. Chatfield's passion for poetry and education did not stop in the classroom. He taped a two-week educational series on poetry that aired on National Broadcasting Corporation television and, as a member of "Poets in the Schools," Chatfield visited public schools to introduce students to contemporary poetry. He was president of Chatfield Software Inc. which was formed in 1990 to design, produce, and market educational software.
Hale Chatfield, professor emeritus of English and poet-in-residence at Hiram College, died from a heart attack at his home in Middlefield, OH, on Thanksgiving Day, November 23, 2000. He was 64 years old.
Other Books
Building an Audience for Poetry (1970)
Ark of Bones, and Other Stories (1971)
Improving the Teaching of Poetry (1979)
Awards:
National Endowment for the Humanities fellowship, 1975; Ohio Arts Council fellowship, 1980; Ohioana Library Association Krout Poetry Award, 1993 for outstanding Ohio poet.
Additional Resources
From the blog "Porkopolis." Read and listen to Hale Chatfield read an "echo-enhanced" version of his poem, "Porky Pig, from the series 'Saturday Morning Cartoons'"