Born: March 4, 1869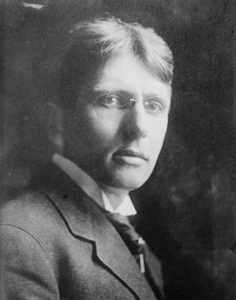 Died: May 24, 1934

Ohio connection: Birth

Urbana
Brand Whitlock, journalist, politician, writer, and diplomat, was born in 1869 in Urbana, Ohio, to the Reverend Elias and Molly Lavinia (Brand) Whitlock. He was first educated at home and later at a public high school in Toledo, Ohio, where the family moved when Whitlock was fifteen.
He was raised in the Methodist Church and was greatly influenced by the church and his father. His family had hoped he would attend Ohio Wesleyan College to prepare for the ministry. He had other ideas, however, and became a reporter for the Toledo Blade (also known as The Blade) newspaper.
In 1890, when Whitlock was twenty-one, he moved to Chicago and worked as a political correspondent for the Chicago Herald where he worked for three years. He then left journalism to work in public office and to study law.
In 1893, Whitlock took a position of clerk in the office of the Secretary of State in Springfield, Illinois. He was admitted to the bar of the state of Illinois in 1894, and Whitlock married Ella Brainerd of Springfield, Illinois in 1895. Two years later, Whitlock was admitted to the Ohio bar and established a successful law practice in Toledo from 1897 until 1905 when he ran for mayor of Toledo on the Independent ticket. He won and served four terms from 1906-1914. Then in 1913, at the age of 44, Whitlock was recruited to serve a United States diplomatic post. In 1914, he was appointed Minister to Belgium by President Woodrow Wilson. Whitlock became the first U.S. Ambassador to Belgium when the post was upgraded in 1919, and he continued to serve in the post until 1921. He returned to private life and to writing full-time in 1922.
While serving in these various positions, Whitlock wrote fiction and nonfiction. He penned novels, essays, short stories, poetry, and biographies. He also contributed to the Encyclopedia Britannica. His novels include The Thirteenth District: A Story of a Candidate (1902), The Happy Average (1904), Her Infinite Variety (1904), and The Turn of the Balance (1907). He also produced two short story collections while mayor of Toledo: The Gold Brick (1910) and The Fall Guy (1912). Some of his nonfiction includes Abraham Lincoln (1908), the autobiography Forty Years of It (1914), and Belgium: A Personal Narrative (1919). After his retirement from politics in 1923, Whitlock devoted the bulk of his time to his writing career. The books he published during this time, J. Hardin & Son (1923) and La Fayette (1929), a two-volume biography, are said to be his most well-known.
Brand Whitlock lived in Toledo and spent the winters on the French Rivera. After a long illness, he died on May 24, 1934, in Cannes, France. He was 65.
Other Works
Uprooted (1926)
Transplanted (1927)
Big Matt: A Story (1928)
Awards
For his service as a United States diplomat to Belgium, Ambassador Whitlock received numerous commendations including Gold medal, National Institute of Social Sciences, 1913; patron commendation for relief in Belgium; Grand Cordon de l'Ordre de Leopold by the King of Belgium, 1917; burgher of Brussels, 1918, of Liege, 1919, and of Ghent, 1920; special session of Belgian Parliament called in Whitlock's honor, 1918; honorary citizen of Antwerp, Belgium, 1919; associate member of the Royal Academy of Belgium, 1919; commemorative medal, Comite National, Belgium, 1919; Grand Cross of St. Sava, Serbia, 1920; member of the Royal Belgian Academy of French Language and Literature, 1922; Grand Cross Order of the Rising Sun, Japan, 1922; grand officer of the Legion of Honor, France, 1929; Civic Cross of first class by Belgium government for "courage and devotion"; bust in Belgian Senate; Brussels boulevard named for Whitlock; and named honorary member of Grand Serment Royal of St. Georges, Brussels, Belgium.
Additional Resources
Learn more about Brand Whitlock. Discover suggestions for further reading and find links to images and resources via Wikipedia.