Born: March 7, 1873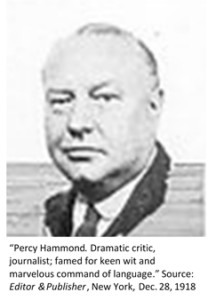 Died: April 25, 1936
Ohio connection: Birth
Cadiz
Prominent drama critic and journalist, Percy Hunter Hammond was born in Cadiz, Ohio. Although his father was Cadiz's leading merchant, at thirteen, Percy Hammond felt irrepressibly drawn towards newspaper journalism, and worked as a "printer's devil" for his uncle's newspaper, the Cadiz Republican. In the audience in a dramatic production at the county fair, Hammond had his first taste of theater, a penchant that would remain insatiable. Acting as an usher or selling playbills to cover the ticket price, he attended performances at the Cadiz Opera House, enthralled at the Broadway successes that made it to town. When his father's disapproval threatened his continued experiences with the theater, Percy left home, without the consent of his parents, for Pittsburgh, Pennsylvania. The 16-year old sold newspapers to pay for tickets and, for a few weeks, practically lived in the audience stalls. After suffering from short rations for a while, Washington, D.C. beckoned, as well as a steady job. Over the next four years, Hammond put his experiences in journalism to work setting text in the Government Printing Office. During that time, he made a decision to return to Ohio, where he attended Franklin College in New Athens between1892-1896. On May 25, 1896, he married Florence Carnahan, with whom he had been acquainted since childhood. They had a son, John.
Hammond's long career in newspaper journalism began with a two-year stint at the Chillicothe News-Advertiser, owned and operated by his uncle. Deciding to leave Ohio for Chicago, Hammond found employment on the City News Association, covering Chicago City Hall for the City Press and gaining the experience of a police reporter. It was an assignment of which he was quite proud. Following that assignment, he spent nearly ten years as a reporter, editorial writer, and finally, as a drama critic on the Chicago Evening Post. In 1908, Hammond accepted a position at the Chicago Tribune. There, as theater critic, his predilection towards blunt, honest, forthright critiquing (peppered with an acerbic wit) made Hammond just as many admirers as he had enemies. The managers of Chicago's Shubert theaters, once barred Hammond from their theaters. The feud ended after theater management capitulated after the Tribune responded by withdrawing all advertising for Shubert theaters out of its newspaper. Although he mainly covered theater news, Hammond was sent to France as a roving war correspondent during the waning days of World War I. He remained there covering the Paris Peace Conference and sending dispatches of his observations from a war zone.
In 1921, with his popular acclaim and notoriety as theater critic extending beyond the confines of Chicago, the editors of the New York Tribune recruited him. At the New York Tribune (later The Herald Tribune), Hammond began a brilliant career that would last for over 30 years. He acquired a wide readership through the extensive syndication of his columns. A New York Times tribute article, published April 26, 1936, revealed the impact of Hammond's work, "New York soon grew to know him as its most graceful and original theatrical writer. His point of view had a quality which taught Broadway something new in the vein of light cynicism." In 1927, Hammond published But-Is It Art?, Hammond's musings on New York City and the theatre scene. Those who saw Hammond in the audience remarked on his consistently deadpan expression. He apparently made it a point never to indicate through his expressions either approval or disapproval for the drama that unfolded around him. Behind this persona, friends knew of a reserved, sensitive, yet mischievous personality. Florence and John shared Hammond's love for the theater and were frequent companions of his on opening nights. 
Five months after Florence's death, Percy Hammond succumbed to pneumonia. He died April 25, 1936 at the age of sixty-three.