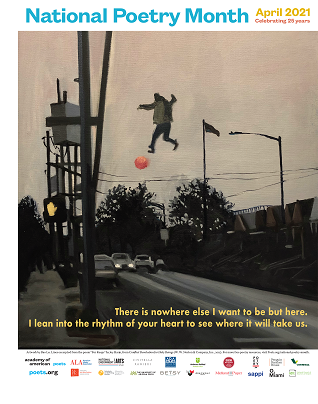 April 2021 marks the 25th anniversary of National Poetry Month! The annual observance was inaugurated in 1996 by the Academy of American Poets and continues as a yearly celebration of poetry and poets! Check out their site for posters, logos, and ideas on how to enjoy poetry this month and all the year round. They even offer 30 ways to celebrate National Poetry Month! There is something for everyone on that list.
For additional ideas on how to celebrate National Poetry Month, check out this post from the Library of Congress!
The Ohio Center for the Book will be marking National Poetry Month with two major events:
Saturday, April 17 – 1-2pm

We Are Human. We Write: Poetry Readings Featuring ID13 Prison Literacy Project Poets
Register here (presented online via Zoom): https://cpl.libcal.com/event/7565028
On Saturday, April 17, we will be hosting a program with special guest Dr. Christopher Dum (Kent State assistant professor and ID13 co-founder) and readings from the ID13 Prison Literacy Project poets performing original written works and spoken word poetry. Join us to learn more about the project, to listen to some powerful work, and to find out how to read more of the poetry from ID13 participants.
Thursday, April 22 – 11am-12pm
Ekphrastic: The Art of Poetry
Live streamed to our Facebook page and that of our host institution, Cleveland Public Library!
In partnership with the Ohioana Book Festival, the coordinator of the Ohio Center for the Book will be moderating a conversation among three prestigious Ohio poets – David Lee Garrison, Kip Knott, and DE Zuccone – to discuss a variety of topics including their work, their use of ekphrasis , and a behind-the-scenes look at their creative process. Join us for a lively and wide-ranging conversation as well as readings from each of the poets.