Born: April 26, 1941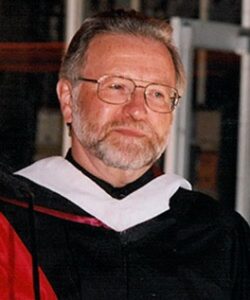 Died: June 16, 2020
Ohio connection: Birth
Toledo
Robert James Flanagan was born in Toledo in 1941. His father, Robert John Flanagan, was a disabled World War I veteran and his mother was Minnie Jane (nee Treloar) Flanagan. Growing up in Toledo, Flanagan thought he would become a policeman like his grandfather and uncle. Instead, he joined the U.S. Marine Corps and, after being discharged, enrolled at the University of Toledo. He married Kathleen Borer in 1963. In 1965, he received a B.A. in English literature, philosophy, and Spanish. He went on to receive a master's degree in English language and literature from the University of Chicago in 1967. Flanagan taught at Slippery Rock State College in Pennsylvania for two years before he joined the faculty at Ohio Wesleyan University (OWU) in 1969 as associate professor of English and then as professor of English. In 2001, he received the Welch Meritorious Teaching Award. Flanagan served as Director of Creative Writing at OWU until his retirement in 2001.
Before becoming an award-winning author and educator, Flanagan worked as a dishwasher, janitor, day laborer, night watchman, psychiatric orderly, and tractor driver. During his university studies, he became inspired by an instructor's emotional reading of a poem. An avid reader since childhood, Flanagan decided to focus on creative writing. He published his first novel, Maggot, in 1971. Maggot is considered groundbreaking for its depiction of basic training in the U.S. Marines Corps. Flanagan felt the greatest praise he received was from a young U.S. Marine, "Thank you for having the balls to tell the truth!"
Flanagan published several books of short fiction, including Three Times Three (1977) Naked to Naked Goes: Stories (1986), Loving Power: Stories (1990), and Story Hour & Other Stories (2014). Flanagan was a featured author in the poetry anthology, Heartland II: Poets of the Midwest (1975). His books of poetry included Reply to an Eviction Notice: Selected Poems (2009). Flanagan's stories have been included in The Norton Book of American Short Stories, Best Ohio Fiction, and Ohio Short Fiction. He received much recognition for his short stories that included the 1966 Screen Gems Award for "In His Father's Room," a nomination for the Nelson Algren Fiction Award for "Berzerk." Flanagan also penned two stage plays: Jupus Redeye and Volleyes. Flanagan adapted his short story "Teller's Ticket" into a screenplay that was made into a short film.
Robert James Flanagan died at home in Delaware, Ohio, on June 16, 2020. He was 79 years old.
Awards/Honors
1966 Screen Gems Award for Short Fiction for "In His Father's Room"; Welch Meritorious Teaching Award (2001). Flanagan received grants and fellowships from The Ohio Arts Council, The National Endowment for the Arts, and The National Endowment for the Humanities.
Additional Resources
Robert James Flanagan 2014 Ohio Wesleyan University. Source: YouTube