Born: May 4, 1952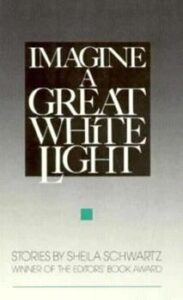 Died: November 8, 2008
Ohio connection: Resident
Cleveland
A Philadelphia native, Sheila Miriam Schwartz was born to Philip and Ruth (Motiloff) Schwartz.  She graduated from Temple University with a B.A. in English in 1974 and earned her M.A. in creative writing from the State University of New York, Binghamton in 1981.  Schwartz went on to teach at Northwestern University in Chicago, where one of her students was award-winning author Dan Chaon. A romance blossomed after Chaon was no longer her student; the two later married in 1988 and had two sons. Schwartz went on to teach creative writing at other universities, including  Ohio University, Syracuse University, New York University, and in 1990, she joined the faculty at Cleveland State University.  Schwartz penned the prize-winning short story collection, Imagine a Great White Light: Stories (1991), and the novel Lies Will Take You Somewhere (2009). Her writing appeared in the Pushcart Prize Anthology Volume XIV and such publications as the Atlantic Monthly (The Atlantic) and Ploughshares.
In 2000, Schwartz was diagnosed with cancer and throughout the eight years of her illness, she never stopped writing and she worked until the last week of her life. She completed a new short story collection, In the Infusion Room, shortly before her death. 
Sheila Schwartz died of complications from ovarian cancer on November 8, 2008. She was 56.
Awards
National Education Association Individual Artists Fellow, 1993; National Endowment for the Arts Grant, 1993; Stanford University Stegner Fellowship, 1981; Pushcart Editors' Book Award, 1991; 1999 O. Henry Award, for "Afterbirth"; Ohio Arts Council Grant, 2005.
Additional Resources
"Finding Peace": Read an excerpt of the short story from In the Infusion Room, a collection that was completed by Sheila Schwartz shortly before her death. This article was published in the November 7, 2009 issue of One Story.