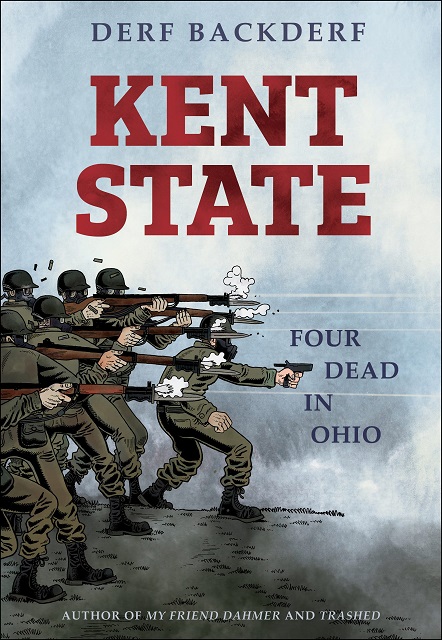 On the eve of the 51st commemoration of the Kent State shootings, the Ohio Center for the Book had the honor of holding a conversation with Derf Backderf about his meticulously researched Kent State: Four Dead in Ohio. In a starred review by Publishers Weekly, the book has been hailed as "a deeply moving elegy for the victims." Backderf provides a detailed chronicle of events while also telling the personal stories behind the events of that day.
For additional information on Kent State: Four Dead in Ohio, check out the publisher's website.
To borrow from your local library, check out
WorldCat.
Additional Resources on Kent State: Four Dead in Ohio by Derf Backderf
Derf Backderf on Kent State on A House Divided (Abraham Lincoln Book Shop, Inc., Nov. 11, 2020, in-depth interview, 1:02:50 video)
Derf's New Graphic Novel 'Kent State: Four Dead in Ohio' Has Much to Offer in Our Current Climate by Brett Zelman (Cleveland Scene, Sep 24, 2020)
Derf's Graphic Novel About May 4th Delivers an Emotional Wallop by Jeff St. Clair (WKSU, September 8, 2020)
"We Seem To Just Be Steamrolling Toward Tragedy.": An Interview With Derf Backderf by Irene Velentzas (The Comics Journal, August 31, 2020)
A Chat with Derf Backderf (Wexner Center for the Arts, April 15, 2020, 30:31 video)
Historical Information on May 4, 1970, at Kent State University
The Wikipedia article on the Kent State Shootings has an excellent summary as well as further reading and additional resources.
Kent State Shootings: May 4 Collection, Kent State University including links to the Oral History Project and Digital Archive.
Yale University Archives: Kent State Collection Finding Aid. "The Kent State Collection in Manuscripts and Archives, Yale University Library, originated with the efforts of Peter Davies, author of The Truth about Kent State, and his friend Paul Keane to find a safe repository for the material that Mr. Davies had created and collected in the course of his research. The major part of the the papers came to Yale on the seventh anniversary of the May 4, 1970, killings, and the Yale Political Union commemorated that gift by sponsoring a five-day colloquium featuring such civil libertarians as Henry Steele Commager and Aryeh Neier as well as Davies, Keane, and others who had long been studying and protesting what happened at Kent State. Since then the library has endeavored to build on this foundation by collecting other relevant manuscripts, but Davies' papers remain the core of the Collection." (Scope and Contents, excerpt)