Born: September 13, 1876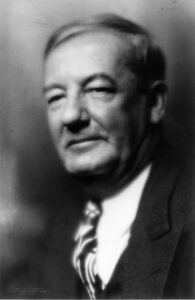 Died: March 8, 1941
Ohio connection: Birth
Camden
Sherwood Anderson was, essentially, a self-educated short-story writer and novelist. With his almost staccato style of writing and by his injecting his own personal experiences and people he knew into his own novels, Anderson helped set a new standard for Midwestern literature.
Born in Camden, Ohio, on September 13, 1876, Sherwood was the third of seven children born to Emma Jane (nee Smith) and Irwin McClain Anderson. The family moved several times before settling in Clyde, Ohio, when Anderson was eight years old. His formative years were spent in Clyde, and he later lived for a number of years in Elyria. Anderson worked odd jobs while attending school; and, feeling the need to help support his family, Anderson quit high school in 1893. Soon after the death of his mother in 1895, Anderson enlisted for a five-year term with the Ohio National Guard. He traveled the Midwest before moving to Chicago, Illinois, in 1897. While working there as a laborer, Anderson completed one term at the Lewis Institute, a private academic and technical school. In 1898, Anderson enlisted in the U.S. Army. While there, his regiment was sent to Cuba. After he was discharged from the military in 1899, Anderson returned to Ohio to enter Wittenberg Academy in Springfield. One year later, he moved to Chicago where he would work at an advertising firm as a copy editor/solicitor. In doing so, he was embarking on a road that would, eventually, lead to his career as a writer.
In 1904, Anderson married Cornelia Lane whom with he had three children. The couple divorced in 1924, and he would go on to marry three more times. Later in life Anderson became owner and editor of two weekly newspapers in Marion, Virginia, where he would have his residence at the time of his death.
Anderson's first novel, Windy McPherson's Son, was published in 1916. Although he published more than 25 books that included both fiction and nonfiction, his most famous work is Winesburg, Ohio (1919) a novel about life in a typical Midwestern town as seen through the eyes of its inhabitants. The novel had great influence on other writers including Ernest Hemingway and William Faulkner. Anderson also published two collections of short stories, The Triumph of the Egg (1921) and Horses and Men (1923). He published two poetry collections, Mid-American Chants (1918) and A New Testament (1927) as well as autobiographical works, A Story Teller's Story (1924) and Tar: A Midwest Childhood (1926). Sherwood Anderson's Memoirs (1942) and Letters of Sherwood Anderson (1953) were published posthumously.
In 1927, Anderson became owner and editor of the Marion Publishing Company which published two newspapers of opposing political policies: The Marion Democrat and The Smyth News. New York Times' book critic Percy Hutchinson wrote that "Sherwood Anderson has contributed to the understanding of the America in which we at present live" in his review of Hello Towns! (1929), a collection of newspaper articles about American small towns and cities.
Anderson died of peritonitis in the Canal Zone on his way to South America. He'd swallowed part of a toothpick, perhaps from hors d'oeuvres or a martini olive at a party before his ship left New York. By the time he made it to the hospital in Colon, Panama, it was too late. He died at age 64 on March 8, 1941.
Awards
Recipient of the Dial Award, 1921.
Additional Resources
Sherwood Anderson, from Wikipedia. Learn more about Anderson's early life and career path. Also access external links to more of his works.
Windy McPherson's Son. Digitized version available, along with more of his books, on Internet Archive.